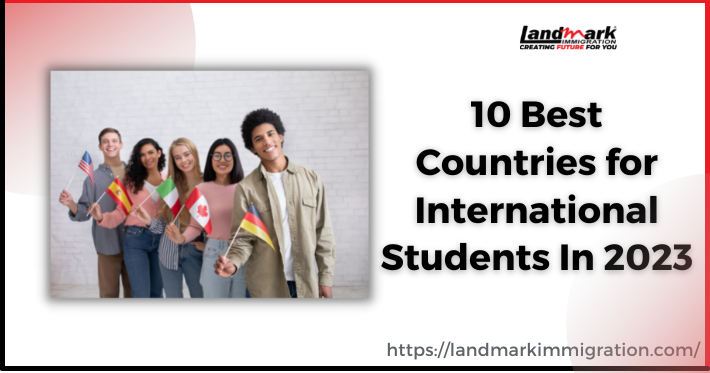 International students are already a major part of the global workforce. In fact, they make up nearly half of all students in higher education.
But what does it mean to be an international student? And how does one get the best possible experience while studying abroad? The following list highlights 10 countries that are popular destinations for international students looking for adventure and a great education:
1. England
England is a great place to study abroad. It has one of the best universities in the world, which makes it an attractive destination for international students.
There are also many top universities in England that offer excellent programs and facilities, including Oxford and Cambridge Universities, Imperial College London (ICL), University College London (UCL), and others.
English education is considered one of the best in the world because of its reputation for academic excellence as well as safety and security measures taken by institutions across the country.
2. Germany
Germany is a great destination for international students because of the high quality of education and affordable tuition fees. It has a very diverse student population, with many different cultures and languages represented in the country.
The German government provides free or discounted tuition at many public universities and colleges, making it possible for you to study without worrying about paying your own way.
The average cost of an undergraduate degree in Germany is 26,000 EUR/year and 40,000 EUR/year for a Master's. This can be significantly cheaper than in other countries like the United States or Australia where tuition costs are much higher than those found in Germany!
3. Japan
Japan is a very popular destination for international students. The country has a rich culture and history, making it an attractive place to learn about your host country. It also has many top-rated universities that are well respected in their fields of study.
Japan is safe, with low crime rates compared to other countries on this list (and most others). Safety isn't just about crime rates; it's also about feeling comfortable walking around at night or traveling by yourself without the worry of getting mugged or robbed.
In addition to its reputation for quality education, Japan also has a good reputation for safety and security—which makes it an ideal choice for new graduates who want to continue working abroad after graduation!
4. France
France is a great place to study abroad. It's considered one of the best countries in Europe, and its quality of life is comparable to what you might experience back home.
With a high standard of education and healthcare available throughout the country, it's easy to see why so many students choose France as their destination when they head overseas.
However, if you're considering studying abroad in France during this time period (2023), there are some things that need to be kept in mind before moving there.
The cost of living can be high compared with other European countries or America; however, there are several scholarships available through various organizations which may help offset those costs.
5. Australia
Australia is a great place to study, with a lot of opportunities for international students. It has a high standard of living, low crime rates, and fair tuition fees.
The country is safe and welcoming to international students who want to learn management skills or develop their skills in business or science.
6. New Zealand
New Zealand is a beautiful country with a promising environment for international students. It is safe and peaceful, with good university systems that make it easy to study English.
New Zealand is also a great place to make friends and play sports, including cricket and rugby (the national sport).
New Zealand has some of the best universities in the world—and they're more affordable than other countries' top schools! If you're looking for an affordable education without sacrificing quality, this might be your best option.
7. Denmark
Denmark is among the top destinations for international students in Europe. It has one of the highest retention rates among European countries, and its tuition fees are relatively low compared to other European countries.
The country also offers a diverse cultural experience that includes world-class museums and art galleries, as well as fantastic cuisine.
One major reason why Denmark is such an attractive place to study abroad is that it is safe. The country has one of lowest crime rates in Europe—and with no street violence or petty theft reported.
You can feel safe walking around town even late at night without worrying about getting mugged or robbed.
8. Canada
Canada is a great country for international students because of its strong economy and education system. The country has a diverse population, which means that there are many different opportunities available to you to study in Canada.
The cost of living in Canada is reasonable compared to other countries and healthcare coverage can be purchased through your provincial healthcare plans (if you are not covered by your home country).
9. Netherlands
The Netherlands has a reputation for being one of the best countries for international students. The Dutch education system is highly regarded, and there are many opportunities for post-graduate studies.
Students can choose from several esteemed universities and colleges throughout the country, all offering courses in English.
It's also easy to find work after graduation as employment rates are high—most young people between 20-34 years old have jobs or internships within six months of finishing their degree program.
10. China
China is the world's most populous country, and it has a long history of education. With over 1 billion people, there are many opportunities to study Chinese culture in this country.
China's economy is also growing rapidly as China becomes an increasingly internationalized economy. This means that there will be more international students coming to study in this country than ever before!
Conclusion
The world of international education is vast and Landmark Immigration helps inspired students like you to explore your potential.
Whether you're looking for a new adventure or just want to broaden your horizons, there are plenty of countries that have something special for you.
There are also some things you should consider before making any decisions about where you'll go and what degree program best suits your needs.