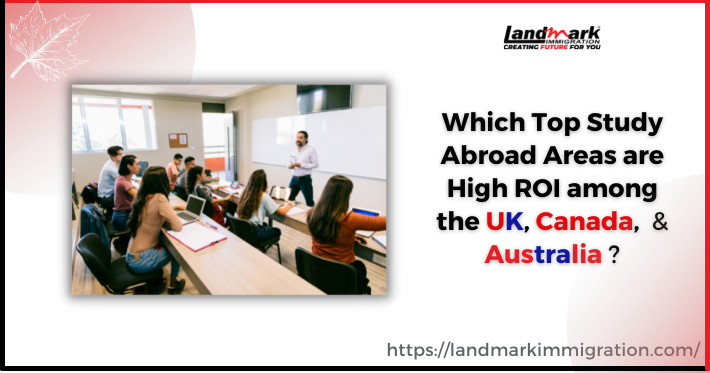 Many students from different parts of the world dream of studying in the UK, Australia, or Canada. However, making an investment of a bucket load of cash for studying is a tough decision.
Plus, you also need to consider a higher return on investment when planning to spend a huge sum of money on higher education in a foreign country.
In this article, we compare the three most popular study destinations for students from India. Keep reading to find detailed information to help you make the right decision.
Job prospects for international students in Canada
Canada is one of the top names that come to students' minds whenever they think of studying and finding high-paying jobs abroad. This country is the 10th largest economy in the globe and has a less than 6 per cent of the unemployment rate and over 20.56 million employed people.
There's a high demand for graduates who have studied at top Canadian universities. Hence, students will have plenty of job opportunities after studying at the top institutions in Canada.
Thanks to the post-graduation work permit (PGWP) in Canada, international students can easily find the best jobs in the country. The PGWP enables you to temporarily work and live in Canada after completing your graduation. The PGWD validity depends on the program's length. For instance, you can get a three-year-long PGWP for a 2-year program.
Comparing the ROI on Canadian education, if a student earns INR 5 lakhs in India, the return on investment on the course will certainly be higher and positive. If a student studies at a university with a 251 to 500 ranking, they are likely to get a higher ROI for their course fees. It is because they are likely to end up getting better jobs with higher salaries.
For even higher salaries and ROI, students need to get admission to universities with a 50 to 100 ranking.
Job prospects for international students in the UK
The UK is another popular destination for international students for higher education. It is the world's 6th largest economy with a 32.4 million working population. This nation even boasts a more than 75-per cent employment rate. That's why several international students often like to stay back in this country for a better ROI on their educational investment.
According to HESA's report 2019-20, more than 538,000 international students are studying in the UK. India is the 2nd top country from where several students register in UK-based higher educational institutions for studies.
One needs Tier 4 student visa for studying in the UK and Tier 2 work visa for employment in the country. In case, you want to set up your business in the UK, you need to apply for Tier 1 visa. One also has 5 years of work permit to build their career in this nation.
The total investment for UK education is around INR 40 lakhs. But the ROI, concerning salary, is around £26,351 to £41,454 (INR 25 to 45 lakhs) after course completion.
Job prospects for international students in Australia
It is the third most popular international destination for students for education. As per the University College of London's Centre for Global Higher Education, Australia takes over the UK for being the second most popular destination for education.
It is because this country has around 700,000 international students enrolled in various educational institutions, like the Australian National University, University of Melbourne, Monash University, University of Queensland, and University of New South Wales. All these universities are ranked among the top 100 universities as per the Times Higher Education World University Rankings 2022.
The country attracts a vast number of international students due to the independent study culture, creativity, and innovation of Australian universities. International students opting to study in Australia do not get access to various gorgeous landscapes.
But they also have unlimited opportunities for research and work. After the successful completion of their degrees in Australia, international students can easily find jobs in various parts of the world.
The cost of education in this nation runs up somewhere between INR 40 to 50 lakhs. Here, the students manage their expenses with part-time jobs and earn 19 AUD per hour. The average yearly salary after MS in CS is between INR 30-35 lakhs.
Comparison: High ROI areas for international students in the UK, Canada, and Australia
The better return on investment in terms of education for each of these countries often depends on growth prospects and the current salary of a student in India. But after analyzing the ROI of the UK, Australia, and Canada separately, Canada comes out as the nation offering a better return on investment to students. It is because Canada's educational investment is quite moderate compared to master's degree fees in various countries. And, the ROI in Canada after completing the degrees is much higher than in different countries around the world.
For better guidance, it is best to consult international educational experts at Landmark Immigration