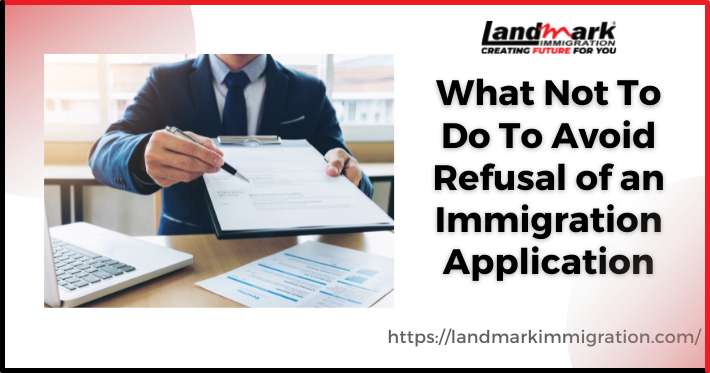 When you go through the immigration process yourself, there is a potential to make mistakes that may lead to being Visa application refused. This situation can get serious as many countries often put up a penalty and a ban of up to five years for misrepresentation in the immigration application.
To evade unnecessary problems and protect from being Visa application refused, here are some things that you should avoid.
Not signing your immigration applications and other forms
Most immigration applications get refused because they do not contain the proper signatures. For example, on forms that relate to the additional family, three different signatures are required based on the main applicant's children and spouse. Most people miss a few signatures on these forms which may lead to an unnecessary delay or even refusal of the immigration application.
Also, in a lot of cases, the applicant may sign at places where they aren't supposed to. For example, a section of most immigration forms requires the signature of the translator, and many applicants sign in those spots by mistake.
Not paying the correct applicable fees
There can be a number of immigration streams. Each of these streams requires a distinct mode of payment. The payment option that you will use will be based on what fee you are paying exactly. You can pay these application fees using a cheque, a bank draft, or even online. For example, if you need to pay the fee for most permanent residency forms, you need to opt for the online mode. If you pay the fee using any other options, it may get returned and induce further delay. Also, make sure that you check the currency that you have to use to pay the application fee and the exact amount required.
Not following the instructions for the photographs
The photographs that your immigration application needs have to be as per the instructions provided with the form. These photos come in particular sizes that can fit in forms such as visa documents and medical forms. If you don't send in the correct formats and sizes, it leads to being Visa application refused.
The immigration application also requires that the backside of your photographs bears your date of birth, name, the date when the picture was taken, and the complete postal address of your photography studio where the picture was taken.
Forgetting to submit supplemental forms along with your immigration application
Residents of all countries generally need to provide supplemental forms that contain additional information. These supplemental forms are very important as they are not contained in the general immigration application forms. These supplemental forms generally include the Work Experience Questionnaire, Education, and Residency Questionnaire. Before you submit the forms of your immigration application, ensure that you have all the supplemental forms that you need to submit.
Filling your immigration application forms with hand
For the forms that can be filled online using pdf fillers, you should opt to use software such as Adobe Reader and fill it in using a laptop. In such forms, it is often best to fill the immigration application online. However many applications opt to get all forms printed and fill them by hand. Generally, all hand-written forms don't offer a lot of legibility. The fact is if your visa officer finds it difficult to read your immigration application, they will have no option other than to refuse your application. When you are allowed to use your computer and complete your immigration application using software like Adobe Reader, you can also create a sequence of barcodes that will enable your immigration office to enter all your information correctly into their computer systems.
Conclusion
Even though you may have done a lot of research, the visa process can seem like a daunting task. The immigration application procedure is time-sensitive, complex, and lengthy. When you start by filling out your immigration application yourself, you are constantly prone to make mistakes. Common mistakes can be submitting some wrong documents or providing incorrect information. Avoid these common errors to ensure that you get your immigration application accepted as easily and in as little time as possible.