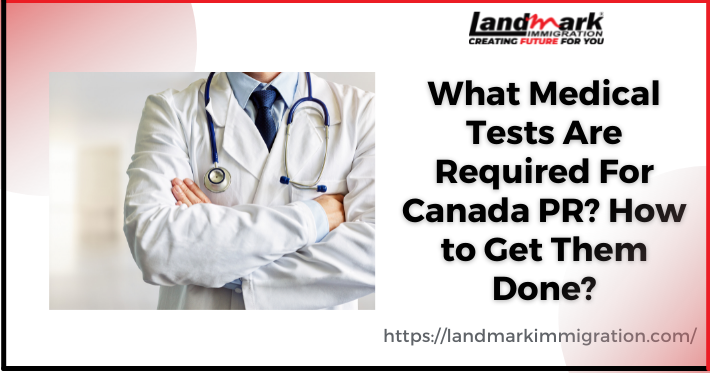 20 January 2022
Before entering Canada, it is important to get your health assessed. Otherwise, Canada can refuse your immigration application if you are found to have a disease that endangers public safety.
Whether you are looking to study in Canada, a skilled worker, or want to settle there, you need to undergo medical tests to prove that you are fit and healthy.
Frankly speaking, your immigration to Canada is also determined by your health as per the law. So this blog will guide you on the mandatory medical tests required for Canada's permanent residence.
Medical Test Requirements for Canada PR
If you have applied for Canada PR, you are required to undergo a medical test. In fact, your spouse, partner, and dependent children are also need to get their medical exam done. Canada also asks for a medical test even if you are a visitor or going as a temporary resident. The primary aim of the medical test is to ensure that a person is medically fit and healthy so that they don't pose any threat to public health and safety in Canada.
For example, certain medical conditions, like highly infectious diseases (say, COVID 19) can pose a threat to the health and safety of Canadian residents, so a person with such a health condition could be denied entry to Canada.
Where To Get Your Medical Test Done for Canada PR?
You can get the required medical test for Canada PR done from your home country, or any area of your choice. However, make sure the doctor performing your medical examination should be a panel physician.
A panel physician means a doctor being approved by IRCC. In other words, only IRCC approved doctors can handle medical tests required for Canadian immigration. Once the test is done, they issue you a health certificate.
What Medical Tests are Required for Canadian Immigration?
You as a Canadian PR applicant have to undergo a medical test for eyes, nose, lungs, heart, Syphilis, and HIV.
Detailed Physical Test:
This medical test requires you to undergo a checkup for the nose, eyes, heart, lungs, and other important body organs. If you have any medical condition, make sure to discuss it with the doctor. The doctor will approve of the test if consider normal.
Chest X-Rays:
This is a vital medical examination to figure out any medical issues with the important functional organs. However, this test is avoided for a pregnant female candidate for the safety of the fetus. But the mother and the newborn are required to undergo a few medical tests.
A PR applicant shouldn't have major medical conditions and disorders such as HIV, TB, and Syphilis. You are required to get your blood test done to find if you have any other disorders affecting your overall health as well.
Urine Tests:
A detailed examination of your urine is also conducted to detect medical issues such as diabetes.
Does a Temporary Resident Visa Applicant Need a Medical Test?
Yeah, it is also mandatory for a temporary resident visa applicant or visitor visa in the following scenarios.
Living or visiting one of the nations listed HERE for at least six months within the previous year.
Opting for a job associated with the public health system.
Applying for a parent or grandparent super visa.
A medical test is also mandatory if you are visiting as a live-in caregiver or visitor.
What is the Cost of Medical Test Required for Canada PR?
The medical test cost for Canada PR varies based on the country/region you live in. In India, it generally costs you anywhere between 5000 and 9000 INR. However, make sure to consult with your panel physician about the medical exam costs.
What is the Validity of the Medical Test Required for Canada PR?
The Health Certificate issued after the medical test is valid for the next year. In other words, the medical test results for Canada PR are valid for 12 months from the date of the exam.
If you opt for a Canada PR visa after one year from the date of issue of the Health Certificate, you will have to get the test done again.
What Happens During Your Medical Exam for Canada PR?
When you arrive for a test, you will be asked for identity proof. If you have been ordered an x-ray or other tests, you might be asked to produce your identification again. Then, you might be asked questions regarding your medical history. For example, the doctor will ask if you have any medical conditions/diseases or what medications are you taking. Make sure to tell the panel doctor about any previous or existing illness/medical conditions.
The physical examination will check your weight, measure your height, check your hearing and vision, take your blood pressure, feel your abdomen, listen to your lungs and heart, check how your limbs move, and look at the skin.
You will be asked to undergo chest x-rays and lab tests at the clinic or a lab. You might be referred to a specialist for more testing, depending on what your medical exam concludes.
However, you have the right to ask questions if you have any doubt during the tests. Once your exam is completed, you will send the results. You will be given a document asserting that you have undergone a medical exam.
How to Send Your Medical Exam Results with Your Application?
If you have undergone an upfront medical test before submitting your application, then you should include a copy of the IMM 10173 Upfront Medical Report form with your application.
If your medical exam happens after the submission of your application, you don't need to send anything along with your application.