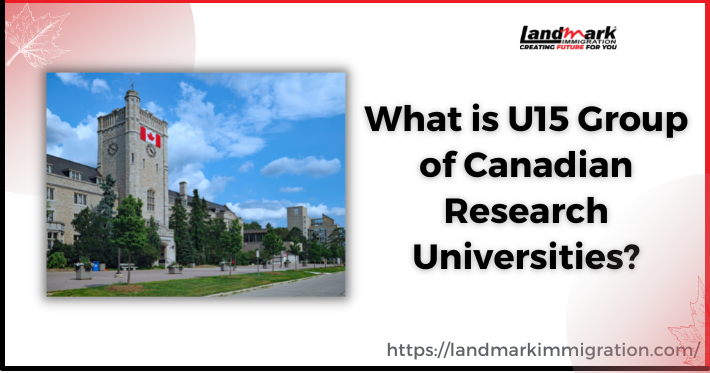 In Canada, there are 15 leading research universities affiliated with the U15 Group of Canadian Research Universities.
Canada U15 universities are known for their cutting-edge research, exceptional faculty, and world-class facilities, and they play a critical role in driving the country's economic growth and competitiveness.
Universities included in U15 Group
The Canada U15 universities are:
University of Toronto
McGill University
University of British Columbia
University of Alberta
Université de Montréal
Dalhousie University
Simon Fraser University
University of Ottawa
University of Waterloo
Western University
University of Calgary
Queen's University
University of Manitoba
Université Laval
University of Saskatchewan
Significance of Canada U15 Universities
These universities attract top talent from around the world. Their faculty and students are engaged in a wide range of groundbreaking research initiatives in health sciences, engineering, computer science, environmental science, and social sciences.
They also offer a wide range of programs and services to support the next generation of researchers and innovators.
The U15 universities collaborate on various initiatives to advance research, innovation, and higher education in Canada and beyond.
They also work closely with government and industry partners to ensure that their research has a real-world impact and contributes to the country's economic, social, and cultural development.
The U15 Group of Canadian Research Universities is a critical component of Canada's innovation ecosystem, and it plays a vital role in driving the country's economic growth and competitiveness.
These universities are among the best in the world, and their contributions to research, innovation, and higher education are truly outstanding.
Why Study at U15 Universities?
There are several reasons why studying at a U15 university in Canada may be a good choice for students:
1. World-Class Faculty:
The U15 universities are home to some of the world's most respected and accomplished scholars and researchers.
Students can learn from these experts and gain valuable insights into their fields of study.
2. Cutting-Edge Research:
With their strong focus on research, the U15 universities provide students with access to the latest breakthroughs and advancements in their fields.
As part of their curriculum, they also offer students an opportunity to engage in research projects that can provide a valuable learning experience and enhance their ability to succeed in their careers.
3. Excellent Facilities:
The U15 universities are equipped with state-of-the-art facilities, including cutting-edge research labs, modern libraries, and top-notch student services.
This gives students the resources they need to succeed and reach their full potential.
4. Wide Range of Programs:
The U15 universities offer a wide range of undergraduate and graduate programs, covering a broad spectrum of disciplines.
In this way, students have the opportunity to select the program that best suits their career goals and interests.
5. Strong Reputation:
The U15 universities are well-respected worldwide and are known for the high quality of their research and education.
Employers highly seek graduates of these universities, and they often have excellent career prospects.
6. Rich Culture and Community:
The U15 universities are located in some of Canada's most vibrant cities, and they offer a diverse and inclusive community of students, faculty, and staff.
This creates a rich cultural environment and allows students to meet people from around the world and broaden their perspectives.
Admission Process of U15 Group of Canadian Research Universities
The admission process for the U15 Group of Canadian Research Universities can vary from university to university, but there are some common steps students can expect to go through.
Here is a general overview of the admission process for undergraduate programs at these universities:
1. Research Programs:
Students should research the programs offered by the U15 universities and choose the one that best fits their interests and career goals.
They should also review the admission requirements for their chosen program, including high school transcripts, test scores (such as the SAT or ACT), essays, letters of recommendation, and more.
2. Submit Application:
To apply to the university, students typically have to fill out an online application.
The application should include all required documents and materials, such as transcripts, test scores, essays, and letters of recommendation.
3. Entrance Tests:
Some U15 universities may require students to take standardized entrance exams such as the SAT, ACT, or GRE.
Students take these exams in order to determine their potential for success in the university setting, as well as their ability.
4. Interview:
Students may also need to participate in an interview at some U15 universities as part of their application.
This is an opportunity for students to discuss their interests, goals, and qualifications with a representative from the university.
5. Review and Decision:
Application materials will be reviewed and admission will be decided after the university receives the application.
This can take several weeks or even months, so students should be patient and check the status of their applications regularly.
It is important to note that the admission process for graduate programs at U15 universities may differ from that for undergraduate programs. Admission requirements for each program should be carefully examined by students.
Conclusion
In conclusion, the U15 Group of Canadian Research Universities offers an innovative, yet affordable, educational experience for students.
With a wide variety of programs and faculties, the University community is ready to offer a challenging and diverse learning environment.
With the support of the Canadian government and the community, the University will continue to grow and advance its programs.
Seeking admission to the U15 Group of Canadian Research Universities, contact Landmark Immigration.