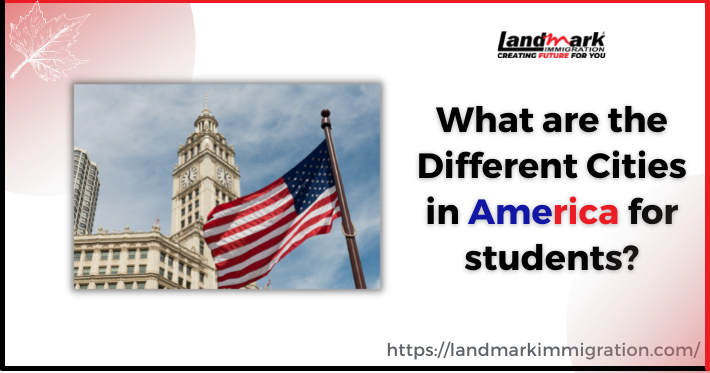 The USA is known for providing higher education facilities to international students. Many students around the globe choose it as a destination for pursuing higher education and advancing their careers.
Different cities offer different experiences, but when it comes to studying, the students must plan and know beforehand which place or city will be ideal for them to study.
In this blog, we discuss the best cities for international students and also the cities which offer affordable living options to students coming from different parts of the world.
Best cities for international students
Before selecting the best cities in the USA for international students, there are some indicators to look out for. These indicators include:
The ranking of universities
Desirability
Affordability
Diversity in students,
student reviews etc.
Let us uncover the best cities one by one.
The city has been ranking on top for several years now. There are around 8 well-known universities in Boston.
The list includes the two top universities in the world, namely Harvard University and Massachusetts Institute of Technology (MIT). It is also known as the student capital of the US.
As many as 20% of international students study in Boston. It performs well on all indicators of the best cities for international students, especially employer activity indicators. The graduates from Boston get hired with good packages by the companies.
Out of the entire population of New York City, 1.5% is formed by students. Students from various parts of the world call New York home for study purposes.
The city performs well on diversity indicators. There are as many as 10 plus universities in the city which are known for their education. These include Columbia University, New York University and Ivy League universities.
The city is popularly known as the city of angels. It is also hailed as the creative capital of the world, as it houses Hollywood. There are many exciting things about Los Angeles for students.
The city offers some of the best universities for international students to study, especially the University of California, Los Angeles, and the California Institute of Technology.
It is ranked higher when it comes to student views of the city. Los Angles is also known as the most culturally diverse city in America, with friendly communities and well-known entertainment centers.
The city is ranked fourth among places to study in the USA. It is a city known for universities like the University of California, Berkeley, and Stanford University.
These universities are part of the Ivy League group and have been well known for education for a very long time.
The city also ranks higher in employer activity indicators. It is home to some greatest companies in the world, including Facebook, IBM and Apple.
Another sought-after city for higher education by international students in Chicago. It scores decently in the employer activity indicator.
There are some great features of the city which make it an ideal place to choose for study by foreign students. It is known for universities such as Northwestern University and the University of Chicago.
The city has a population of 5 million, out of which more than 60,000 are students. There are headquarters of major successful companies in Atlanta, especially Holiday Inn, The Coca-Cola Company and United Parcel Service. It performs well on employment activity indicators.
Some great universities in Atlanta are Emory University, Georgia Institute of Technology and Georgia State University.
The city performs greatly in university rankings and is well known for the University of Pennsylvania. Philadelphia is much known for its heritage, culture, and friendly atmosphere.
Another city on the list of famous spots for international students in Washington, DC. It is the capital city of the United States of America.
Some noteworthy universities in this city include Georgetown University, College Park and the University of Maryland.
Pittsburgh and San Diego are other hotspots for international students in the USA.
Affordable cities in the US for international students
Based on affordability and cost of living, let us find out the best cities in the USA for international students.
Memphis, Tennessee – The cost of living in Memphis city is 20% lower than the US average. The rent is also quite affordable and one can get accommodation as low as $800.
Philadelphia, Pennsylvania – The average cost of living in this city is around $800 to $1300, which is low when compared to other cities.
Tulsa, Oklahoma – This city was once known as the oil capital of the world. It offers affordable rental options for students, as they can get one-bedroom apartments for as low as $700 per month.
St. Louis, Missouri – In this city, you can easily get single-bedroom accommodation at a price of between $850 to $1,000.
San Antonio, Texas – Students can easily get accommodation for up to $1,200 in San Antonio and can save money on groceries and other necessities.
For better guidance about future in America, it is best to consult international educational experts at Landmark Immigration.