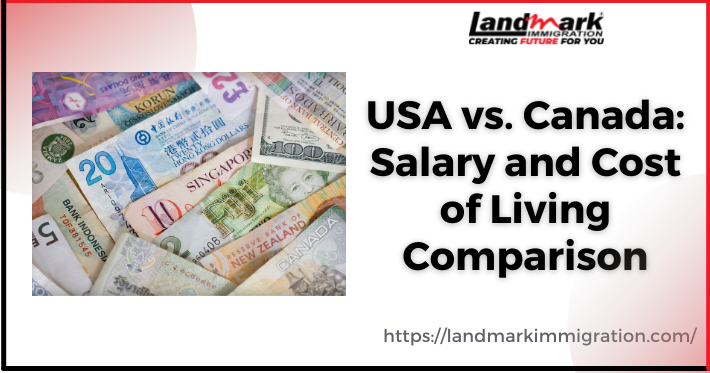 The U.S and Canada share many similarities with a few significant differences. These two neighboring countries are located in North America. Canada and the USA are also the third-largest nations in the world by terms of area. Both nations come under the highest salary paying country and also popular among immigrants, thanks to a good quality of life and a lot of opportunities.
There are a lot of things that make these two nations great for working and living but which one is better to live in.
This brief comparison can help you choose the better option according to your priorities.
Average Salaries:
An online comparison by Numbeo.com found that the average income of a Canadian and an American is almost the same.
The average tax deducted income in Canada is $36,000 per year, meaning that one can earn $3,000 a year. On the other hand, one can earn $35,000 per year, meaning that an average income is $2,942 after paying all the taxes.
However, the real difference is created by the cost of living. Although people almost make the same amount on both sides of Niagara Falls, there are big differences between spending areas of both nations.
Accommodation:
In an average Canadian city, you have to pay $907 for a one-bedroom condo while it will cost you $878 for the same accommodation in the USA.
This difference of nearly $29/month sums up to nearly $350 per year. Over the five years, you will be paying $1,700 as additional expenses for housing alone.
Food:
Food is not cheaper in Canada compared to the USA. One kg of chicken breasts costs nearly $6.50 in the USA, while it will cost you roughly $11 in Canada. An average, three-course meal for two in Canada will cost you $60 while you have to pay nearly $44 for the same.
Clothing:
Clothing is also costlier in Canada than in the USA. A $40 pair of Levi's jeans in the USA will cost you nearly $ 55 in Canada.
Vehicle:
A Volkswagen Golf can cost you an average of $23,000 in Canada compared to the similar model costing you $26,870 in the USA. The average cost of a Toyota Corolla or equivalent is $21,603 in Canada while it is $24,902 in the USA.
Education:
The average tuition fee for undergraduate international students costs around $22,500 per year. In the USA, the tuition fees will cost you anywhere from $5,000 to $50,000 per year United States.
A private pre-school will cost you an average of $997 in Canada while the same in the USA will cost you $1,047 in the USA. Education in Canada is cheaper and just as good.
Internet Prices:
Internet prices are cheaper in Canada than those in the USA. In Canada, it will cost you around $129.95 per month to buy a package of 60 Mbps or more with unlimited data and cable/ADSL.
In the USA, the Internet prices generally start from $35, although you might end up paying an average of $60/month for broadband. You also have to pay $100 or more for installation while the equipment rental fee adds $10 or more to your monthly bill.
Healthcare Costs:
Canada is not only the highest salary paying country but also known for having one of the best healthcare systems in the world as it assures universal access to healthcare without financial issues.
In Canada, health insurance is funded by the government which covers the cost of a hospital or GP. Although Canadians might have a free healthcare system, they have to pay for it through taxes.
On the other hand, the US health care system requires people to get insurance through their employer on the "co-pay" basis or through Medicaid which is run by Government but is not free. Many Americans still struggle to afford private insurance.
Millions of Americans live without insurance.
Americans pay more for healthcare as well as get ready for unexpected or sudden costs. If you have a leg injury, for example, it can cost you up to $30,000 for a three-day hospital stay. No health benefits are provided by the US government to its citizens or visitors. Canadians don't have to pay for every essential medical service.
Which is the Better Country to Live In?
After going through the above comparison between both nations based on highest salary paying country and living costs, both nations have the same annual income.
But the cost of living in the US is significantly lower than that in Canada. While Canadians might pay less for bigger life events, the people in the USA pay less for basic amenities such as food, clothing, and accommodation. Maybe it all levels in the end, or may one place is better to move in than the other.
Whatever place you choose, make sure to consider the factors you value the most. For more information, get in touch with our immigration consultants now.