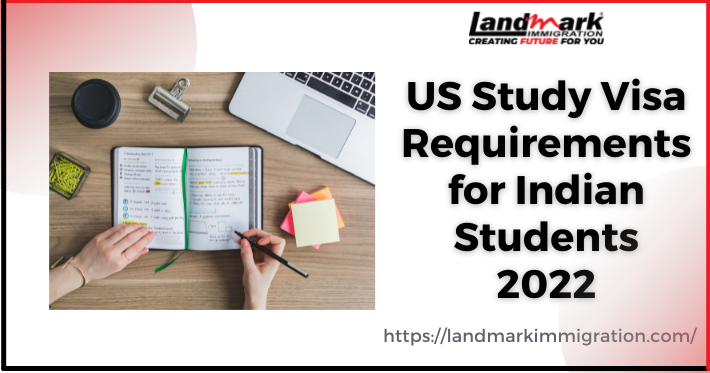 The US is counted among the leading study destinations in the world. The country's education system ensures the most comprehensive coursework with an equal focus on practical and theoretical learning. The other factors that make the US a favorable study destination are quality education, access to internships, abundant opportunities, exciting campus lifestyle and diversity, and flexibility. So if you are looking to study in the USA, make sure to go through USA study visa requirements for Indian students Although it might be easy to get a study visa for the USA from India, it requires you to go through a lot of paperwork and understand the process as well.
Don't worry! This brief guide will educate you on the US study visa process.
Understanding the Types of US Study Visas:
There are two types of US study visas, F-1 visas, and M-1 visas. Students opting for vocational or nonacademic classes should apply for an M-1 visa. Students enrolling in academic courses should apply for an F-1 visa.
You need an F-1 study visa for:
High school
University or college
Private elementary school
Seminary
Language Training Institute
Conservatory
Most students choose an F-1 Student visa.
Apply and Be Accepted by a US School or University:
First of all, apply and be accepted by a US school or university that is accredited by the Student and Exchange Visitor Program (SEVP). If your application is accepted, you will be provided with a Form I-20 from the international student office of the institution.
Collect the Documents Required for a US Study Visa
When applying for the US student permit, you require the following documents:
A valid passport for at least six months beyond your duration of stay in the USA.
Approval Letter by a SEVP approved school and Form I-20.
Non-immigrant visa application and the Form DS-160 confirmation page.
Your latest photographs.
Evidence that you have sufficient funds to bear your living expenses throughout your stays in the US, such as bank statements, financial undertaking, and a scholarship program.
Evidence you will leave the US once you completed your course of study.
Applying for Your US Study Visa Online:
Apply for your US study visa online at the US Embassy and Consulate India website. Make sure to apply it 120 days before the date of your study program. However, you shouldn't wait too long after you get your acceptance letter as it can take several months to complete the US study visa process from India. This is one of the most important steps to complete usa study visa requirements for Indian students
What is the Cost of a US Study Visa?
Obtaining your US study visa can cost you nearly USD 500. The cost includes a $350 fee for SEVIS and $160 fees for the DS-160 form.
Schedule Your Visa Interview:
You can schedule your interview for the US study visa at the nearest US consulates and embassies in India. Make sure to schedule your US visa appointment as soon as possible. Also, bring your important documents such as passport, copy of the photo, diploma, and bank statements to the interview.
How Long Does It Take to Get Your US Study Visa?
Depending on the complexity of your case, the time it takes to get an F1 visa might take from days to a week. Generally, your application will just take a few days to process, and then you are required to wait another 2-3 days for your passport to arrive. To get your visa on time, make sure to apply for it three to four months before the departure date.
So you must have understood the process of applying for a US study visa from India. You can also get in touch with our study abroad consultants now.