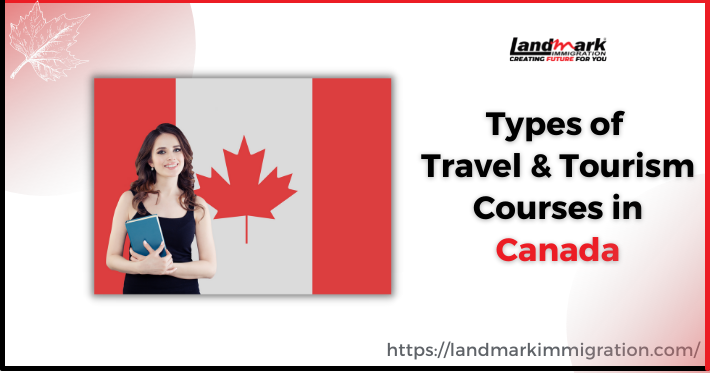 It is no surprise that the travel industry is enjoying post-COVID-19 recovery. Travel and tourism are one of the most lucrative industries due to their high demand and fast recovery in case of any global events such as the recent pandemic. Studying travel and tourism courses in Canada is an excellent way to get into the industry.
Courses on travel and tourism help you in discovering and travelling new cuisines and cultures. You can obtain an education that helps you gain insight into the industry. This career path is excellent for you if you like exploring new places and areas.
Travel and tourism courses in Canada are highly-ranked in this domain, and this makes Canada the best choice for travel and tourism enthusiasts. You can explore unique cultures and lifestyles as an international student.
Why should you study travel and tourism in Canada?
Canada is a popular tourist destination. It is also the second largest country in the world. As Canada has the longest coastline in the world, it offers its tourists some astonishing scenic panoramas. As the travel industry keeps growing after recovering from the COVID-19 pandemic, many countries have reopened their borders, Canada among them.
Tourism in Canada has spiked after the pandemic and is growing exponentially. As a result, there are thousands of international students who are looking forward to going to Canada for their education. If you are someone who is passionate about travel and tourism, you cannot find a better country for these courses than Canada.
Obtain an education in tourism
You can avail yourself of education in tourism with travel and tourism courses in Canada. You can achieve sustainable skills and gain a significant competitive advantage that is required to thrive in the dynamic travel industry throughout the world.
It offers engaged experiential learning, which can be easily balanced when you go through an academic curriculum that acclimates to you and prepares you for the technological needs and desired skill sets of the travel and tourism industry.
What jobs can you get after a travel and tourism course in Canada?
Some of the most desirable jobs that you will be qualified for are in destination management companies, tour operators, retail travel agencies, and airlines. The work experience that you will gain during your education will allow you to use your skills and classroom knowledge in real-world travel and tourism industry strategies and prepare you for future careers. After an education in tourism, you can learn everything you need to know about the tourism industry.
What are the advantages of completing a travel course in Canada?
You will be able to understand the business models while focusing on honing your business skills and obtaining a service-based attitude. Relevant skills that you will gain are in customer relations, public relations, sales, and marketing. You will also be proficient in geography, industry-oriented global distribution systems, risk management, and negotiation skills after completing this program.
Obtain an education in tourism management
You can avail a bachelor's in tourism management to build up on the education you have earned by completing a few diploma programs in outdoor recreation, tourism, and hospitality.
Conclusion
Travel is one of the fastest-growing industries in Canada. Canadians put a significant value on the education that they provide to international students regardless of experience or age. Hence, you should opt for travel and tourism courses in Canada to expand your knowledge as well as learn from the best faculties in the world.
Canada also offers a lot of different career options to help you in accelerating your career. There are numerous opportunities in Canada to turn your travel dreams into a career.  Landmark Immigration offers you world full of opportunities to get to your desired country.