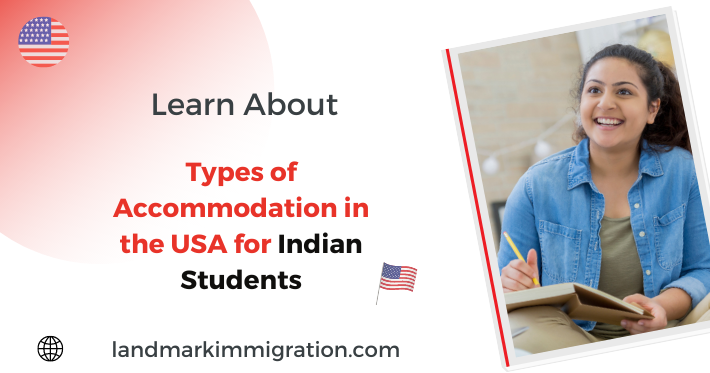 The United States has always been a beacon of knowledge, attracting students from all corners of the globe, including a significant number of Indian students. As you embark on this thrilling academic journey, one of the critical aspects to consider is finding the perfect accommodation that will be your cozy abode during your studies. In this blog, we'll explore the types of accommodation in the USA for Indian students, ensuring you make an informed decision.
On-campus Student Housing: Embrace the Heart of College Life
Imagine waking up to the buzz of campus life, the aroma of freshly brewed coffee from the nearby café, and the camaraderie of fellow students rushing to class.
On-campus student housing is the epitome of the classic college experience. Living within the campus grounds offers unmatched convenience, as everything you need is just a stone's throw away.
Pros of On-campus Accommodation:
Immersive Campus Culture: Living on campus allows you to be at the heart of all the college events and activities, fostering friendships and memories that will last a lifetime.
Easy Access to Facilities: Forget long commutes or searching for parking spaces. On-campus housing ensures quick access to academic buildings, libraries, and other essential amenities.
All-inclusive Options: Some on-campus accommodations come with convenient utilities, such as electricity, water, and even internet, easing your financial burden.
Cons of On-campus Accommodation:
Limited Privacy: Dorms and shared facilities mean you might have less privacy compared to off-campus living options.
Potentially Higher Costs: In some cases, on-campus housing may be slightly more expensive than off-campus alternatives.
Less Independence: Living within the campus environment might limit the degree of independence you'd have in off-campus housing.
Off-campus Student Housing: Freedom and Flexibility
If you crave a sense of independence and desire to venture beyond the traditional college environment, off-campus student housing could be your ideal choice. This option entails renting a room or property outside the college premises, offering a taste of what it's like to live in the wider community.
Apartment: Your Haven Away From Campus
Many Indian students prefer the freedom and autonomy that come with renting an apartment, either individually or shared with fellow students. Apartments typically provide additional amenities and comforts that may not be available in on-campus options.
Homestay: Embrace the Local Culture
Stepping into a homestay means immersing yourself in the authentic American way of life. Living with a local family not only provides a safe and caring environment but also opens doors to cultural exchange and genuine connections.
How to Find Accommodation in USA for Indian Students?
Searching for accommodation in USA for Indian Students might seem overwhelming, but with the right approach, it can be an exciting part of your journey. To find the perfect place to call your home away from home, follow these steps:
Extensive Research: Utilize online resources, university housing portals, and student forums. Engage with current students or alumni to get real-life insights.
Reach Out to Your University: The university housing department can offer valuable assistance, recommendations, and guidelines in your search.
Consider Location: Factor in the proximity to your university, essential services, and the overall safety of the area.
Tips to Consider While Choosing Student accommodation in USA for Indian students
Finding the ideal accommodation involves careful evaluation. Keep these tips in mind to make a well-informed decision:
Budget Wisely: Ensure the accommodation aligns with your budget, accounting for rent, utilities, and any hidden costs.
Location Matters: Consider the distance to your university, grocery stores, public transportation, and other facilities.
Prioritize Safety: Safety should be a top concern, especially if you plan to come home late or work part-time.
Cost of Accommodation in USA for Indian Students
The cost of accommodation in the USA varies based on factors like location, amenities, and the type of housing you choose. On-campus student housing might range from $8,000 to $12,000 annually, while off-campus options could range from $500 to $1,500 per month, depending on the city and amenities available.
On-campus vs. Off-campus  Accommodation in the USA for Indian Students
Pros of Off-campus Accommodation:
Independence and Freedom: Off-campus living grants you the freedom to set your own rules and create a personalized environment.
Variety in Housing Options: You have a wide array of apartments, condos, and houses to choose from, tailoring your living experience to your preferences.
Potential Cost Savings: Living with roommates can significantly lower costs, making off-campus housing more affordable for some students.
Cons of Off-campus Accommodation:
Distance from Campus: Depending on the location, you might have a longer commute to classes.
Added Responsibilities: With independence comes responsibilities, such as managing bills and groceries.
Potential Isolation: Living off-campus might result in less interaction with the university community, which could impact your overall college experience.
Conclusion: Your Home Away From Home
Finding the perfect accommodation in USA for Indian students is a crucial step in making your journey to the USA a resounding success. Whether you choose to embrace the vibrant campus life or opt for the freedom of off-campus living, trust your instincts and consider your preferences and budget.
Your accommodation will not only be your shelter but also your space to grow, learn, and create unforgettable memories during this transformative phase of your life.
For such details visit Landmark Immigration.