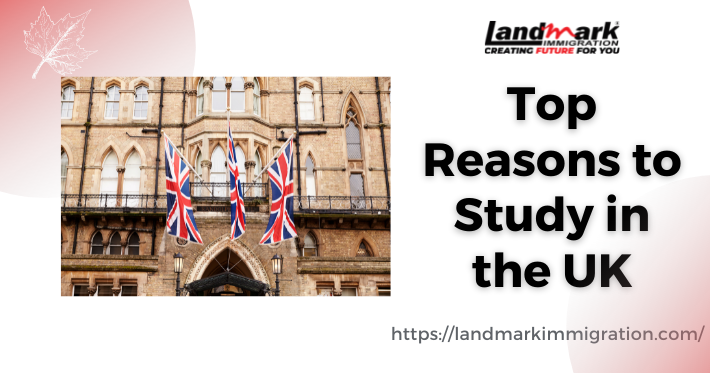 8 October 2021
Studying abroad is an amazing opportunity to grow, nurture and develop your learning while being exposed to new experiences, new cultures.
There are plenty of study destinations across the world and one of them is the UK or the United Kingdom.
With over 100 universities and more than 50 thousand courses to choose from, the UK has become one of the favorite countries for international students. As a bonus, the nation boasts an amazing academic reputation, part time job opportunities and a welcoming culture to make your studying abroad experience pleasant and convenient.
If you are looking for the best options for where to study abroad, here we have rounded up some convincing reasons to consider the UK as your study destination.
World-Class Academic Reputation:
The UK enjoys an amazing reputation across the globe as a nation of learning and academia. After all, it is the home to some of the oldest universities in the world, including Oxford and Cambridge.
The British universities also secure top places in the world university league tables. Nearly a fifth of the world's top 50 universities is in the UK. Universities in the UK are regularly inspected by the Quality Assurance Agency for Higher Education (QAA)), ensuring that the institutions maintain the highest standards in research, teaching and learning.
Besides, the Teaching Excellence Framework and Research Excellence Framework are there to rate the performance of universities in the field of teaching and research respectively.
That's why it is safe to say that you are likely having a quality education in the UK.
Multicultural and Inviting Culture:
The UK is one of the popular study destinations in the world which is why you can see people from almost every country on the earth. It is a nation where all religions and faiths are represented. It is welcoming to new cultures and traditions—something an international student wants to have in the first place in a foreign country.
The multicultural and mixed society in the UK will help you make new friends from all over the world.
Shorter Study Programs:
It takes less time to complete your degree in the UK compared to other nations, which means you will be able to become a graduate sooner. Although most students opt for four-year programs, most degree programs in the UK are three years while the master programs are generally between one and two years.
Affordable Cost of Living:
The UK is also known for its affordable cost of living for students. While some major cities like Oxford, Brighton and London can be expensive, there are still many cities that are not only affordable but also offer high quality of education and lifestyle such as Newcastle, Manchester and Aberdeen.
You can save more by opting for a university with affordable tuition fees. Plus, you can avail yourself of student discounts on travel, shopping and food. Healthcare is generally free of charge to students (please read the guidelines of public healthcare for international students.)
Broad Range of Degrees to Choose From:
UK universities offer a wide range of degrees that can be as many as 30,000, meaning that you can opt for something that suits you.
Permission of Part-Time Job for International Students:
In the UK, you can do a part-time job alongside study to fund your fees and other daily expenses. Students are allowed to do a maximum of 20 hours per week of work at their degree level while a maximum of 10 hours per week is allowed during course term.
The average part-time weekly wage for an international student in the UK is £112.20 week.
A part-time job not only supports you financially but also helps you learn a new skill and expand your network. You might even get an employee discount depending on the job.
Availability of the Scholarship Programs:
The UK also offers several scholarships for international students which are funded by the government, universities and other entities. They are basically financial aid or a waiver in the tuition fees given to needy students or bright students.
Moreover, the fully paid scholarships help you study for free in the nation.
Improve Your English:
When you pursue a study program in the UK, you have a great chance to improve your English dialect.
When you live in the UK, you have to converse in English while interacting with people. This way, you not only learn English but also catch the several nuances of the language otherwise you might not learn.
And as we all know that English is a global language and is mostly preferred by most companies. You can also get enrolled in some of the best English language schools in the UK to improve your language skills further.
High Rate of Employ-ability:
Employers look for efficient graduates who are equipped with certain skill sets, including incredible thinking skills. UK education is valued by employers, governments and universities across the globe. Becoming a graduate from the UK means you have got the golden opportunity to find rewarding jobs with lucrative salaries.
So these are some reasons to study in the UK. However, make sure to approach a UK study visa consultant while applying for any university out there. This is because a silly mistake on your application or documentation can lead to a study visa refusal. Why take a chance with this opportunity to study in one of the world's top study destinations?
We at Landmark offer valuable UK study visa consultation and help you apply, clear visa interview and paperwork. Get in touch now!