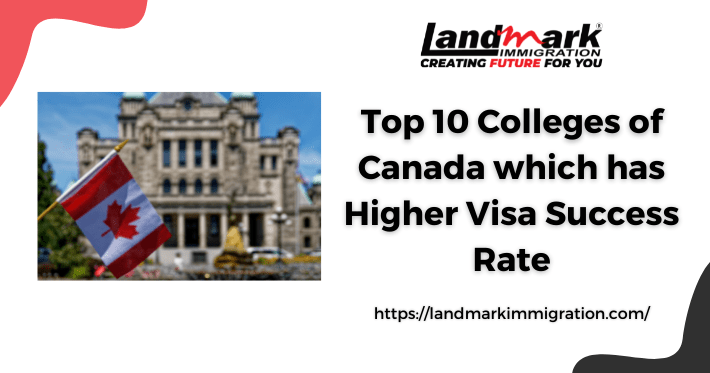 Top 10 Colleges of Canada which has Higher Visa Success Rate
If you are looking to study in Canada, make sure to choose your college carefully. The selection of your college not only ensures quality education but also plays important role in your visa approval.
Recently, many students have faced visa refusals in Canada despite having an SDS advantage. Some of them have scored 7 bands and still not make it to Canada. That's why it is time to get serious about your selection of colleges in Canada.
The first thing you can do is to prefer a government college in Canada.
Secondly, make sure your consultants have tie-ups with those colleges. This is an important step many students fail to consider, leading to their visa rejection.
Furthermore, choose the colleges where the student attendance rate is lower than 100-300 students per year.
Luckily, you don't need to waste time and energy to find those colleges in Canada. We have outlined them for you. 
Please watch our video for in-depth details
Top 10 Canada Colleges list is given below.
Red Deer College, Red Deer City, Alberta:
It is a public comprehensive community college located in Red Deer, Alberta, Canada. The college offers world-class facilities, including a learning, teaching, and athletic center. Over 90% of graduates find employment within 6 months of graduation.
Despite being one of the best colleges in the city, it is chosen by a few numbers of students. But it is also true that Red Deer College can maximize your visa success rate.
North Island College, British Columbia:
North Island College is known for its affordable fees and attractive courses. Spanning over an area of 80,000 square kilometers, the college has four campuses.
The college offers course in business, health care, tourism and hospitality, fine arts and design, interactive media, trades, and many more.
Northern College, Timmins Campus, Ontario:
Northern College is attended by a few numbers of students. However, the college is located in an attractive place. Timmins, where the college is situated, is known for goldmines and plenty of job opportunities. Above all, the visa success rate is also great with this college.
The college has four campuses across the state. Established in 2010, the Timmins campus of the college is specialized in offering cutting-edge programs in trade and technological engineering. The college is a perfect blend of an urban and rural environment.
The college also encourages its students to engage themselves in part-time jobs in the surrounding area and also apply for a job on campus during their completion of the course.
NorQuest College, Edmonton, Alberta:
Sitting on traditional lands known as Treat 6 territory, NorQuest College has the strength of over 20,000 students. The 60 percent of the students of this college were outside Canada, making it a favorable college among the diverse communities.
The students of this college originate from over 130 nations with more than 70 languages spoken at its two campuses located at Edmonton and Wetaskiwin.
Camosun College, Victoria, British Columbia:
Located in the beautiful campus of Victoria, Camosun College offers 160 courses across the streams like technology, business, trades, health, sports, humanity, and more.
The college is known for its strict entry requirements. That's why the college can maximize your visa success rate up to 90%. The college is associated with the University of British Columbia.
Keyano College, Fort McMurray:
Keyano College is not only one of the best colleges from a visa viewpoint, but also proves affordable as the fee is up to 12,000 dollars only. The college also offers attractive courses in business, accounting, technology, social work, humanity, and more.
Justice Institute of British Columbia, New Westminster, British Columbia:
It offers law-related courses. Initially being available for Canadian students only, this college has now started offering a course to international students.
Medicine Hat College, Alberta:
It is a public, board-governed, and comprehensive college. It offers affordable courses being available for 13,000 dollars.
Vanier College, Montreal:
It is the only public college offering postgraduate courses in the region. Although it offers a quality learning experience, it is one of the lesser-known colleges among international students as well as immigration agents.
Lethbridge College, Alberta:
It is the first public college in Alberta. The fees are as affordable as 10-11 k dollars. Landmark has collaboration with these colleges.
Visa success rate is higher if you choose any of these colleges. Een students with refusals can apply. We can help if you are eligible for these colleges.