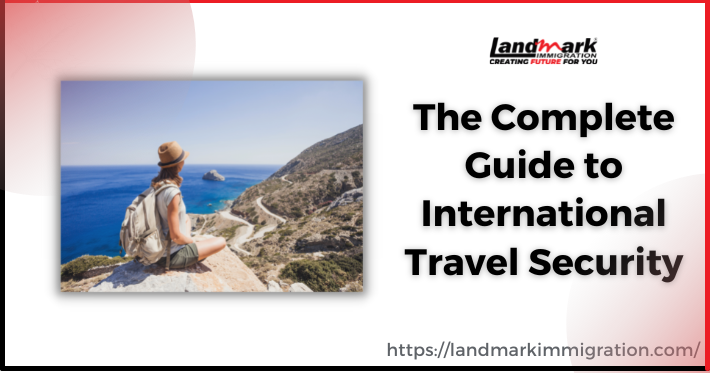 Travelling abroad is one of the most thrilling things you can do. You can discover all the fascinating cultures and places when you travel. Traveling anywhere in the globe is generally very safe. Nevertheless, there are safety measures that every tourist should take to guarantee that their journey is enjoyable. And here are some of them.
Document your identity and travel destinations
Make copies of passport, travel itinerary, license, and insurance. Make two copies and store each set in a different bag. In case of emergency, send them to a family member.
Keep important contact information handy. This includes the name, address, and phone number of the place you'll be staying (ask for a business card), the name and contact information of the tour operator or travel agency (if relevant), and the name and contact information of the embassy.
Hard-copy maps are an excellent backup for your gadgets and cut down on the amount of time you spend glancing at your phone while you're out and about. These can be printed versions of Google Maps or other map image search results, as well as actual maps.
Be Wary of Strangers:
Of course, you'll talk to the locals of the place you are visiting — meeting new people is the finest part of travelling! But don't go overboard and start giving out your personal or life stories to complete strangers. You shouldn't go anywhere with strangers unless they are your certified tour guide and you are on your scheduled trip.
Trying to Pay in Cash at Internet Cafes:
The widespread use of the Internet has not only made things convenient for us, but also given a new way to commit cyber-crimes.
For example, internet cafes are popular with tourists. They offer a quick and convenient option to get a cup of coffee while emailing your loved ones the most recent information about your vacation. Paying for computer use with cash is safer because thieves are on the lookout and employ key logger software on Internet cafe machines to steal your credit card information.
Staying Safe on an Airplane
Airplanes are one of the safest modes of transportation in the world with only two fatalities per one billion passenger-miles flown.
In order to stay safe during air travel, it is important that you know your rights as a passenger and your responsibilities as well as those of your airline personnel such as flight attendants and pilots. You should also be aware about what you can expect from your fellow passengers who may not be familiar with the same rules.
Passengers have certain rights to make sure they are safe during their flight. These rights can be found in the Federal Aviation Regulations or FAA. You are entitled to these protections whether you are flying domestically or internationally. The following is a list of some of these rights:
Staying Safe in a Taxi Cab or Rental Car
– Don't leave anything of value in the car.
– If you have valuables with you, put them in the trunk before you get out of the vehicle.
– Be vigilant about your surroundings and report any suspicious activity to the police.
Keeping Your Luggage Safer!
The tips below are the basics, but they are often overlooked.
1) Keep your luggage with you at all times.
2) Never leave your luggage unattended.
3) Keep your luggage in sight if possible and not near a window or ledge where people can see inside it.
4) If you are carrying a bag, use both hands to carry it and keep it close to your body, making it more difficult for thieves to snatch it from you.
5) If someone offers to help with your bag or tells you that there is an issue with the escalator, do not let them take possession of your bag – this is just a distraction technique to steal from you!
Taking Care of Your Health:
Carrying additional prescription drugs, eye-wear, and/or contact lenses is one of the basic travel tips.
Find out if the place you're going to needs certain vaccines and whether your activities or the places you'll be visiting require any additional shots. Start early because certain vaccinations take time to take effect or need numerous doses. Or you can consult a travel medicine physician.
Contact your home doctor for advice or a second opinion if you require medical attention while you are travelling. Also, always carry your own water bottle to minimize the risk of water borne disease.
The Bottom Line:
There are a plenty of things you can do to stay safe while enjoying your foreign trip. However, it would be easy and stress free to get started with these basic tips. Travelling is an excellent opportunity to explore the world. Stay safe and enjoy your travel.