Let's accept it. It is not easy to choose between studying abroad and studying in India for all students. Studying in India means you will have all the comfort of living in your homeland and not having to be apart from your family, friends, and beloved ones. But studying abroad ensures you a foreign degree, global exposure, outstanding research opportunities, and career benefits.
The point is here that both options come with their pros and cons. 
That's why we have come up with these differences between studying in India and studying abroad so that you can make an informed decision. Let's get started.
Career:
Getting an MBA degree from any foreign university is really a great boost when compared to MBA from any Indian institution. But that doesn't mean MBA programs from India are not superior compared to their foreign counterparts. Here we need to understand that employers prefer someone with a foreign degree in MBA.
Moreover, studying abroad can help you secure a job in that nation. For example, New Zealand lets international students stay in the country for up to 3 years if they got the relevant qualification.
Research Opportunities:
Research opportunities available in the nations like the UK and the USA are far more advanced than those being offered by Indian institutions. This is the key reason why many Indian students prefer to study abroad.
A Global Outlook:
You get global exposure abroad. You get to experience a new culture and lifestyle that might not be possible while studying in India. Although you might feel lonely and homesick on the initial days, you are likely to transform into a responsible and independent individual later.
Residing in student dormitories promotes a sense of community living and lets you interact with students from other nations and understand their lifestyle and culture.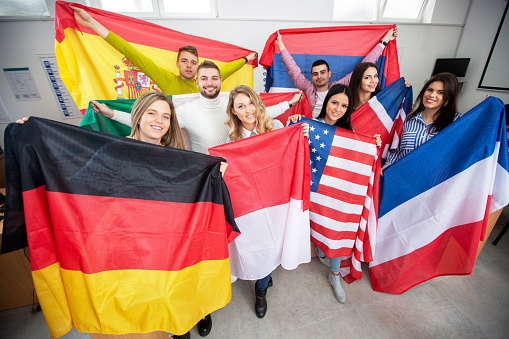 Cost:
Needless to say, studying abroad is generally expensive. The cost can shoot up quickly when it comes to studying in top destinations like USA and UK. After all, it involves the cost of food, travel, living, etc. apart from university fees. Pursuing study programs from India is affordable.
In the USA, the approximate annual expenditure and cost of living is INR 34 lark while it can cost INR 25 lakh in Australia and around INR 25 lakh in Canada.
Bright students can opt for the many scholarships and can request a partial or complete tuition fee waiver.
Quality of Education:
Many Indian institutes' syllabus is focused more on theoretical education and less likely to make new research. On the other hand, the syllabus of foreign universities is more practical and encourages students to conduct fresh research instead of sticking to what has already been discovered.
Flexibility:
We all know that India has a structured and focused system of education. For example, In India, a Psychology student will be offered subjects in this field and will rarely opt for something like accounting and marketing along with it.
In the USA, a student gets to study literature, volcanoes, history, and art all at the same time.
Options to Change Subjects:
In India, not all institutes allow students to change their subjects in the middle. A student of chemistry major is not allowed to opt for other subjects like economics or arts in the middle of the course. But that is not always the case with most western universities. They allow the students to change their subjects.
Adaptability:
While studying abroad gives you a global outlook and exposure, it also tests your ability to adapt to the new environment. Apart from living in a totally new environment, you will go through unique teaching styles, admission processes, forms of education, and grading. A change in the format of teaching might be welcoming theoretically, but think practically about whether you can adjust enough to get the benefits from the study programmer.
Degree Duration:
A basic graduation degree in India is completed in 3 years, while the same degree takes more than 4 years in the USA. As a result, if you want to opt for a post-graduation degree in the US after becoming a graduate in India, you are required to pursue an Honors level degree. So you have to decide if you are ready to invest an extra year or two for that degree.
Our Verdict: Studying Abroad or Studying in India
By this point, you must have understood the differences between studying abroad and studying in India. While studying abroad helps you get an edge, many Indian institutes are offering world-class study programs with globally recognized degrees.
If you are still not sure, you can get in touch with our study abroad consultants at Landmark. We guide you over the courses, universities as well as the right nations according to your qualification. Contact us now!