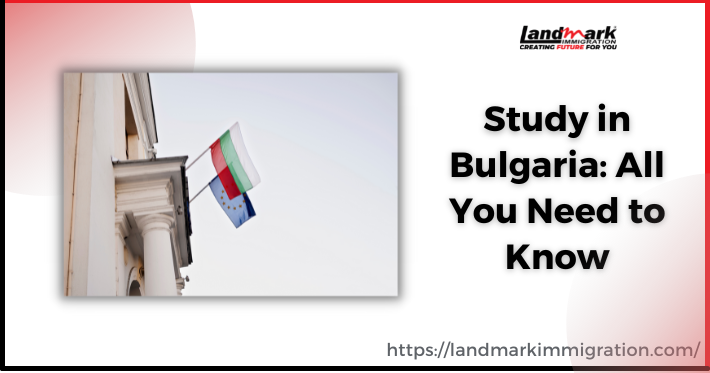 16 November 2022
Bulgaria is a great place to study abroad. It is a Balkan nation situated in Southeastern Europe. It has an affordable cost of living, great universities, and many work opportunities. Not only this but it is also a very social country where people are friendly and willing to help each other out. Take a look at more reasons to study in Bulgaria.
Affordability
Bulgaria is a very affordable country to study in, and you can get a very good education for a fraction of the price of other countries. You will also be able to save money by studying at a university in the countryside, where accommodation is cheaper than at an urban centre.
Quality of education
Bulgaria has an excellent reputation for its universities. The quality of education is recognized by the international community, and the universities are well-funded and have state-of-the-art facilities. Students have access to world-class professors who prepare them for careers in business, arts, or science.
The country also boasts one of Europe's largest student populations, making it an ideal destination for students looking to get ahead in their studies while also having fun!
Opportunities to work alongside studying
You can work during the summer and holidays. You can also work during the semester breaks, which are four months long.
If you want to study in Bulgaria and earn some extra money while doing so, then this is an option! This is especially true if you don't have a job lined up when school ends for your semester break or summer break.
Travel opportunities
Bulgaria is a great place to travel. Many places to visit, from the Black Sea coastline to the mountainous regions of northern Bulgaria, with its beautiful lakes and peaks.
Bulgarian holidays are also very popular with foreign tourists. There are many cheap flights from Sofia and Plovdiv airports (Sofia Airport flies direct to most European cities), or you can take a bus or train to other destinations as well:
Ruse is located in north-eastern Bulgaria and has long been famous for its mineral waters which have been bottled since ancient times!
Also known as Little Vienna It's also home to one of Europe's largest thermal baths resort complexes "Thermal City" which includes several hotels, restaurants & spas all within walking distance from each other so you don't need cars when visiting there! You can even rent bikes if you want bike rides around town too
Rich Culture
If you're looking for a country with a rich history, Bulgaria is a great option. The cultural influences that have shaped the country's food are diverse and varied, including Greek, Turkish and Ottoman traditions. Bulgarian cuisine is influenced by these various culinary traditions but also includes unique elements of its own as well!
Bulgarian food has been described as "simple," but this simplicity often comes at a price—there are few delicacies or specialities in Bulgaria that can't be found here! You'll find fresh vegetables everywhere (though not always organic), potatoes are abundant (and delicious), and delicious authentic delicacies are served on every table throughout the day- you get the picture!
Great social scene
The social life in Bulgaria is one of the most exciting aspects of your stay. There are many opportunities to meet new people, participate in activities and clubs, and have fun! Some examples include:
Living with host families or at student residences that offer socialization opportunities (e.g., cooking classes)
Attending cultural events like concerts or plays
Joining a student organization like an academic club or sports team
Bulgaria is where east meets west
Studying abroad in Bulgaria can be a great thing for your resume and for your experience as a whole. It is a great place to study. Not only is it affordable, but you can get a good education and work while you are there.
The food is delicious and the social scene is fun! What else does an international student want? We hope this article has given you a better understanding of why studying in Bulgaria is a great opportunity. It will help you decide whether or not it's right for your future, and we wish you all the best on your journey!
For more information on studying in Bulgaria contact our immigration experts at Landmark Immigration.