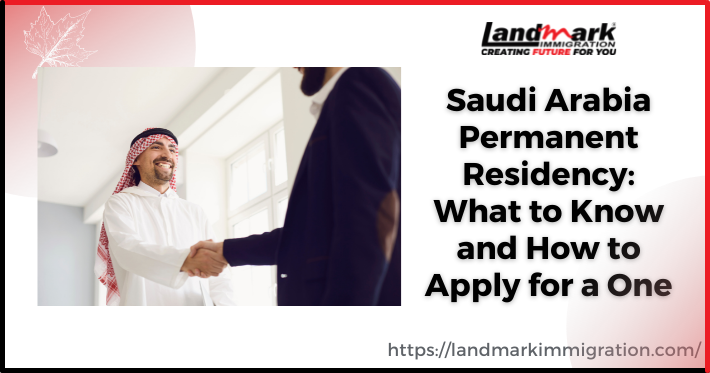 Becoming a permanent resident of Saudi Arabia can be an excellent way to secure your retirement income or simply make life easier for you and your family. If you meet the eligibility requirements, the process of applying for Saudi Arabia permanent residency isn't too difficult, and it opens up many opportunities for you to learn about and explore one of the world's most influential countries from the inside out.
What to Know About Saudi Arabia Permanent Residence?
The Saudi Premium residency program, often known as the "privileged Iqama," allows permit holders to live, work, operate a business, and own property in Saudi Arabia without the need for a sponsor.
Foreigners will have identical rights to Saudis in many spheres of life, including recruiting workers and owning a mode of transportation, with premium residence (also known as the Saudi Green Card or Golden visa).Furthermore, expatriates having premium status can leave and return to Saudi Arabia without the need for a sponsor's authorization.
Establishing and sustaining a business in Saudi Arabia is easier given that you don't need a sponsor, often known as a kafeel. As a result, it is envisaged that the scheme would continue to draw foreign investors to Saudi Arabia.
What Documents are Required for Saudi Arabia PR?
Most importantly, you'll need an official sponsor from a Saudi-based company or government institution. You'll also need an authenticated birth certificate; authenticated marriage certificate (if applicable); police clearance and criminal record report; valid passport; recent photographs (4 pieces, 1×1 inches each); original divorce decree, if previously married; and proof of financial ability.
Where Do I Submit My Documents?
Some of your documents can be submitted in person, but others must be mailed or sent via courier. It's best to confirm exactly how each document should be submitted to your closest Saudi Arabian embassy or consulate. Some general guidelines: passport photos must be in color and taken within six months of applying; all documents will need to have a certified true copy attached (make sure that certified true copy is stamped by a Notary Public); and applications will need to be typed, printed and signed on official Saudi government letterhead. Finally, make sure you keep copies of everything you send—you'll need them as supporting evidence if you ever have any questions or issues regarding your application.
What is the Processing Time for Saudi Arabia PR?
The time it takes for your visa application to be processed will vary depending on your nationality. Usually, applicants from Western countries can expect a processing time of about two weeks. During busy times such as Ramadan, when many Muslims are applying for visas, it may take up to six weeks or longer. Keep in mind that you should apply at least three months prior to your desired travel date. There is no guarantee that you will be issued a visa if you apply too early!
What If My Application Is Rejected?
Applying for a Saudi Arabian permanent residency can be difficult. There is a lot of paperwork and processing time. If your application gets rejected, it's important to not get discouraged; instead, you should use that as an opportunity to learn from your mistakes and apply again with what you've learned! Think about what went wrong on your last application and write down why it got rejected so you don't make those same mistakes next time. It also helps to talk through any concerns or fears with someone close to you; reaching out isn't cowardly but rather a smart way of getting feedback from someone outside of yourself who doesn't have any emotional attachment/prejudice towards your case. 
Once I Get My PR Card for Saudi Arabia, Then What?
Once you receive your PR card, you will then have all of your legal rights and protections as a permanent resident in Saudi Arabia. That means that you can open a bank account, sign a lease, apply for a mortgage, and so on. As a permanent resident, you can also be employed by any company that does business in Saudi Arabia. You'll also be able to obtain your residency visa—and multiple re-entry visas—throughout your stay in Saudi Arabia.