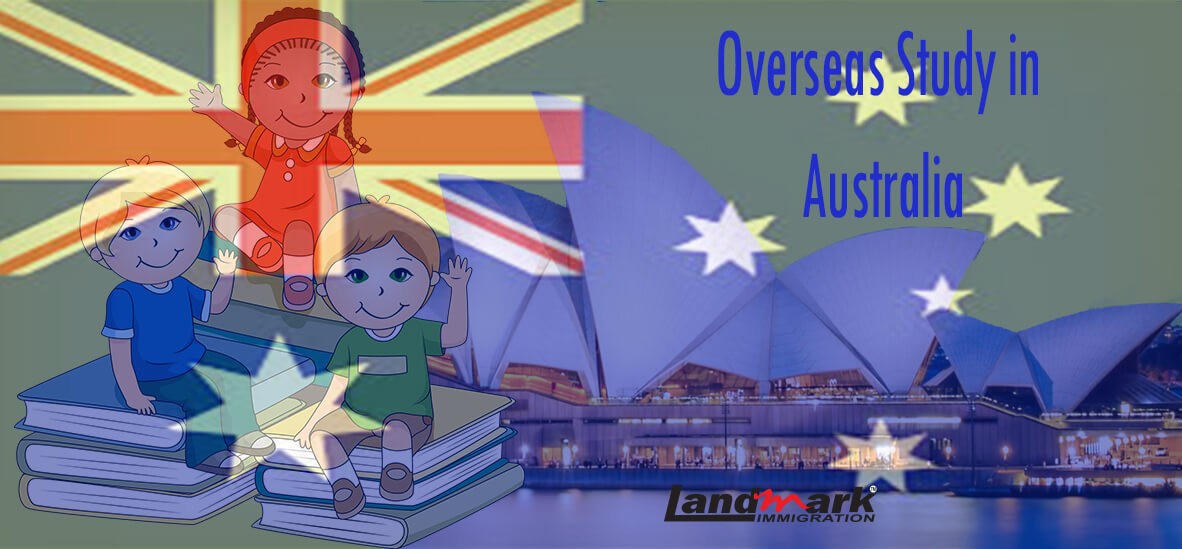 Today, overseas education in Australia is most popular among students. As Australia comes in the third position as popularity for overseas education in Australia for the English speaking world.
Australia has much diversity in culture, friendly natives and is high-quality education. They have a beautiful nightlife, it seems people know how to enjoy and, live a luxury life
The cost of living is normal in comparison to countries like the USA, and, in the UK the tuition fee cost is less. The government regulates all the rules and, regulations carefully to increase Overseas education in Australia and, that too with a high-quality education.
Now, Australia comes up with the new laws in the Immigration process. Australia has updated rules & regulation in cases like
tourist visa and, many more.
There are many different types of visa applications available depending upon your interest and, requirements.
1.    Electronic Travel Authority (Visitor) or a Tourist visa or a Sponsored Family Visitor visa.
If you are a tourist or want to celebrate your holiday's or for a small trip regarding your business, you must go with an Electronic Travel Authority (Visitor) or a Tourist visa or a Sponsored Family Visitor visa. This visa gives you access to Australia for three months. within three months of visa, you can sight-seeing, visiting family and, friends or other short term non-business, or work-related things can be done.
If you want to participate in Australia's Overseas Student Program, you'll have to register yourself for a full-time course. this registration can only be done after you get the Student Visa.
2.    Business (Short-Stay) visa
If you want to visit Australia for less then three months, then you should go with a work visa. It provides you the Access of Australia border for short stay.. This Business (Short-Stay) visa will allow you to visit Australia for conferences and, business meeting purposes. If you are organizing business events or conferences, you should go with a different visa. Either, you want longer-term employment in Australia, you would require a company that is ready to sponsor you for up to four years of time.
If your age is between 18 to 30 years and you are involved in fancy work around Australia, you can apply for a Working Holiday Program. This Working Holiday Program will allow you to take up casual employment.
3.    Medical Treatment Visa.
If you need a treatment or you are a medical consultant and, want to visit Australia you will require a Medical Treatment Visa.
A visit to Australia for medical consultations or treatment requires that you have Medical Treatment Visa.
4.    Retirement Visa/ Transit Visa
Retirement Visa/ Transit Visa are two different types of visas. But, they work parallel. You need a Retirement Visa is applied when you want to spend a few years of retirement in Australia. You can visit Australia, see the beautiful nature,  you will have the access to go anywhere in Australia. At the same time, if you want to stop anywhere in Australia and, live there, you will require a Transit visa.
5.    Immigration Visa
if you are planning to settle in Australia permanently, you will require to participate in the Migration Program. In this program, people with special skills and, those, who will help Australia in growing their economy are involved.
People, whose family members are already in Australia. For them, it's easy to go to Australia. Your family has to just sponsor your expenses. Australian Government runs the Humanitarian Program for the refugees.
6.    Resident Return Visa
Resident Return Visa works a bit differently. If you have a permanent resident visa for Australia, but still, you are not confirmed citizen of Australia. In that cermancanteces, you can apply for Resident Return Visa. You will need a Resident Return Visa to allow you back in, should you leave on a temporary basis.
Each of the visa criteria is important and, has a different condition. You can go with any of the visa types as per your requirement. You may need additional paperwork to accompany the application.
The only thing common in all the visa is, you need to specify the length of your proposed stay. If you thought of visiting Australia for less than 3 weeks and. further, you thought you will stay for three months, this will create problems.
Usually, Visa interviewer ask for a medical examination or a chest results for confirming your visa. This process is done for people who are willing to stay for more than three months. In case you have a serious medical problem.
You can have all detailed information regarding Australia, from the Australian Government Department of Immigration and, Multicultural Affairs website.
How Landmark Immigration will help you?
Landmark Immigration is the best option for the student looking for overseas education in Australia. Now a day's students are willing for overseas education in Australia. The reason behind students willing for overseas education in Australia is, beautiful weather and, diversity in exposure and, opportunity. Overseas education in Australia gives you a wider opportunity to grow your carrier and, earn well.
Landmark Immigration has a top consultant, who works hard to provide you an Australian Visa. If you want to apply for an Australian Visa, we can help you to get one. our team will guide you on each and, every step of your visa process.
Your dream of overseas study in Australia can be fulfilled easily and early with our guidance. Contact us now, to know each every step in full detail.