The Ministry of Internal Affairs, Argentina has issued new guidelines for the renewal of passports for minors under 18 years of age. The new validity will be of 5 years instead of the standard 10 years. However, the standard 10 years will still be applicable for adults.
This new passport rule will improve border controls as believed by the authorities. Besides, it will be useful in streamlining immigration processes.
Argentine passports are still available for foreigners with Argentine citizenship. The same rule will be applied to their children under 18 years of age.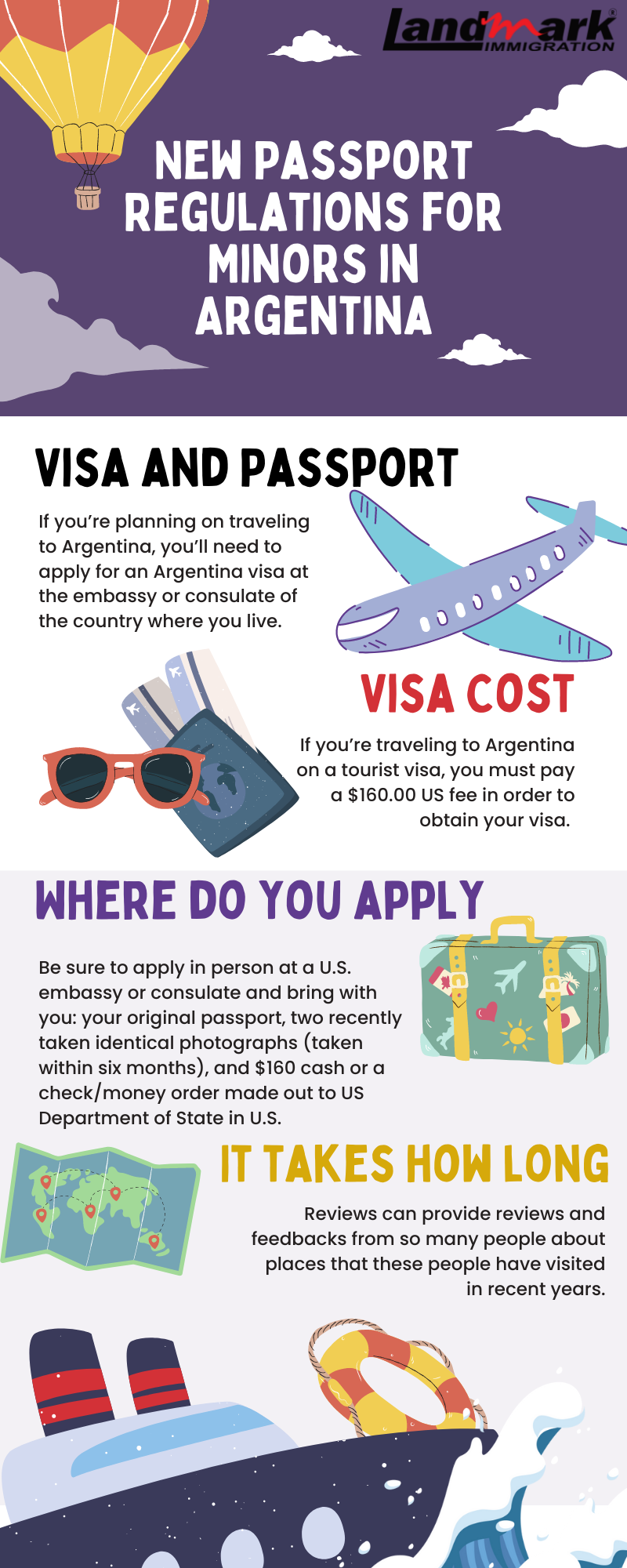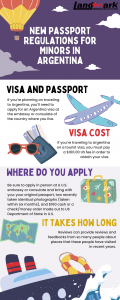 Other Visa and Passport Requirements for Argentina
If you are looking for a visa to Argentina, make sure to follow the steps given below.
If you're planning on traveling to Argentina, you'll need to apply for an Argentina visa at the embassy or consulate of the country where you live. These visas allow you to enter and leave the country as many times as you wish while the duration of your visa is valid. If you don't have an Argentina visa but are entering the country, you can be subject to fines and legal issues; if you overstay your visa, you could be prohibited from returning to Argentina, so be sure to check with your Argentinean consulate about applying for an Argentina visa before your trip!
What documents do I need?
You'll need A passport that is valid for at least 6 months after your scheduled departure from Argentina and has at least 1 empty page.
1 (one) visa application form, fully completed and signed.
One recent photograph of yourself on a white background taken within the last six months shows a full front view of your face with a neutral expression and both ears visible.
Proof of financial solvency – you will need to show evidence that you have enough money to support yourself while you are in Argentina such as bank statements, pay stubs, etc.
What supporting documentation do I need?
Before applying for your visa, you'll need to gather documents that demonstrate your eligibility to enter and stay in Argentina. Proof of a roundtrip ticket (return date less than 6 months from date of entry) showing that you have enough funds to cover your trip costs is required. You must also bring a valid passport with at least six months remaining before its expiration and two recent photos.
Argentina Visa Cost
If you're traveling to Argentina on a tourist visa, you must pay a $160.00 US fee in order to obtain your visa. This cost may be waived if you are from one of 38 participating countries and provide proof that you have medical insurance valid for your entire stay. Fees are paid in cash (U.S.
Where do I apply for my Argentina visa?
Be sure to apply in person at a U.S. embassy or consulate and bring with you: your original passport, two recently taken identical photographs (taken within six months), and $160 cash or a check/money order made out to the US Department of State in U.S. dollars or Argentine pesos —payable to Consulado de la República Argentina en Boston (see note below).
How long does it take to get my Argentina visa issued?
Depending on your nationality, a visa to travel to and live in Argentina could take anywhere from two weeks to several months. To apply for an Argentina visa from India, all applications should be submitted to the Consular Section of the Embassy of the Argentine Republic in New Delhi, India.
When should I apply for my Argentina visa?
If you're planning to visit, live, or work in Argentina, you should apply for your visa as soon as possible to avoid costly delays and complications. When you receive your temporary residency permit in advance, it allows you to enter and exit Argentina several times before having to apply for a permanent residency permit. Getting a visa early also gives you more time to do necessary preparations like finding housing and obtaining medical insurance. Read on for details about how to apply.
For more updates and information on visa and passport regulations in Argentina, get in touch with our experienced immigration experts.