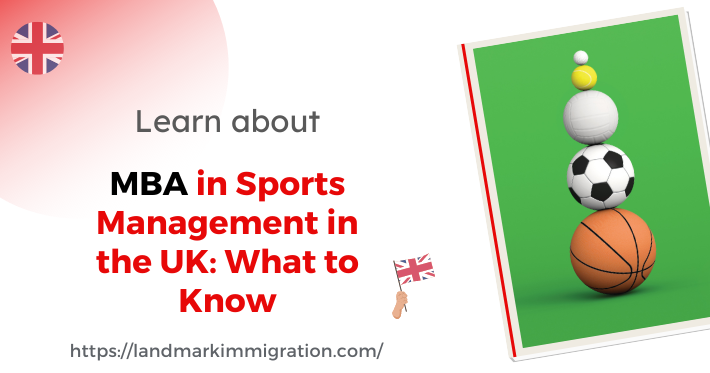 If you love sports and want to work in this industry, a special degree called MBA in sports management help you boost your career.
It takes about 1-2 years to complete, and during that time, you'll learn all about how to work in this exciting and dynamic industry.
In this program, you can learn different things like selling sports stuff, promoting sports events, managing sports teams, handling money for sports, hiring and taking care of people who work in sports, or using numbers and data to make smart decisions in sports.
An Overview of MBA in Sports Management
Course Type: Post Graduation
Duration: 1-2 Years
Eligibility: 3-year Bachelor's Degree in any Relevant Field with 50% Marks
Entrance Test: IELTS or TOEFL and CAT/CMAT/MAT/GMAT
Job Opportunity: National Sport Federation Officer, Commercial Account Manager in a Sports and Events Agency, Local Authority Sport and Leisure Officer, etc.
Understanding the Benefits of Pursuing MBA in Sports Management from the UK
Here are some awesome reasons to consider studying there:
You'll get a great education:
The programs in the UK cover everything you need to know about both business and sports. So, you'll learn all the important factors while still having fun with sports.
The UK is a sports paradise:
The country hosts big sports events like Wimbledon, the British Open, and the Premier League. People there love sports, so you'll be surrounded by a passion for it. This means you'll have lots of chances to learn and make connections with people who share your love for sports.
You'll meet people from all over the world:
Studying in the UK means you'll have classmates from different countries. This is awesome because you'll learn about their cultures and perspectives. In sports management, it's important to understand different markets and strategies from around the world, so this will give you a big advantage.
You'll get hands-on experience:
UK schools have connections with sports organizations, which means you can get internships or work placements. This is a great way to learn by doing and get real-world experience in the sports industry. Plus, you'll make more connections that can help you in your future career.
Lots of career opportunities:
The sports industry in the UK is huge and keeps growing. So, getting an MBA in Sports Management can open up lots of job options for you. You could work in sports marketing, event management, facility management, sports finance, and more. It's an exciting field with endless possibilities!
What is the Course Curriculum for Sports Management in UK
Law
Sports Ethics
Media Relations
Sports Advertising
Event Management
Administration
Sports Marketing and Management
How to Become Eligible for MBA in Sports Management in the UK
To be eligible for an MBA in Sports Management in the UK, there are a few things you need to have:
Good Grades:
You should have at least a second-class honors degree (2:1) or an equivalent from another country. This means you should do well in your previous studies.
Work Experience:
It's helpful to have two or three years of work experience, especially in a related field. This shows that you have some knowledge and skills that can be useful for the MBA program. But sometimes, they might make exceptions if you don't have work experience.
English Skills:
Since the program is taught in English, you need to prove that you're good at English. You can do this by taking a test like IELTS, TOEFL, or PTE and getting a certain score. For example, in IELTS, you should get an overall score of 7.0 or higher, with no less than 6.5 in each part.
GMAT Scores (maybe):
In some cases, they might ask you to take the GMAT test. This test measures your skills in math and reasoning. It's used to see if you're ready for the MBA program.
Personal Statement:
When you apply, you also need to write a personal statement. This is a letter where you explain why you want to study sports management and how your previous experiences make you a good fit for the program. You should also mention your future goals and what you hope to do after finishing the program.
What are the Reputed Universities for Sports Management in the UK?
The University of Liverpool
Loughborough University
University of Salford-Salford Business School
What is the Admission Process for MBA in Sports Management in UK?
First, you should talk to someone who knows a lot about studying abroad. They can help you find the best school for you in the UK.
Then, you need to fill out an application form online. This form will ask for information about you, like your grades, any work experience you have, and why you want to study sports management.
You also need to send your school grades, a letter that explains why you want to study sports management, letters from people who can recommend you, a resume, and proof that you can speak English well.
If they like your application, they might want to talk to you more. They might ask you to come in for an interview or talk to you over the phone or video chat.
If they decide to accept you, they will send you a letter offering you a spot in the program. To make sure you get the spot, you have to say "yes" and pay some money by a certain deadline.
Lastly, you need to apply for a student visa. This means you have to show that you have enough money to support yourself, a letter from the school saying they want you, and some other important documents.
So What Are Your Career Options after MBA in Sports Management?
MBA in Sports Management makes you eligible for the following career options:
Sports Development Officer: This job involves helping to make sports programs better and encouraging more people to participate.
Sport Administrator: Sports administrators help with organizing and managing sports events and activities. They make sure everything runs smoothly.
Sports Agent: Sports agents represent athletes and help them with things like contracts and negotiations.
Sports Marketer: Sports marketers promote sports events and products to get more people interested in them. They might use advertisements and other strategies to attract fans.
Event Manager: Event managers are responsible for planning and organizing sports events like tournaments or competitions. They make sure everything is set up and runs smoothly during the event.
Sports Consultancy: Sport consultants give advice and guidance to sports organizations. They help them improve and be successful in different areas of their work.
Sports Entrepreneurship: Sports entrepreneurs start their own businesses in the sports industry. They might create things like sports equipment stores or fitness centers.
The Bottom Line:
If you really love sports and want to have a cool job in that field, studying for an MBA in Sports Management in the UK can be a great choice. But you have to meet certain requirements to be eligible for the program. It's also important to find the best colleges that offer this program. So, if you're interested in an exciting career in sports and want to study abroad, reach out to the study visa experts at Landmark Immigration for help and guidance!