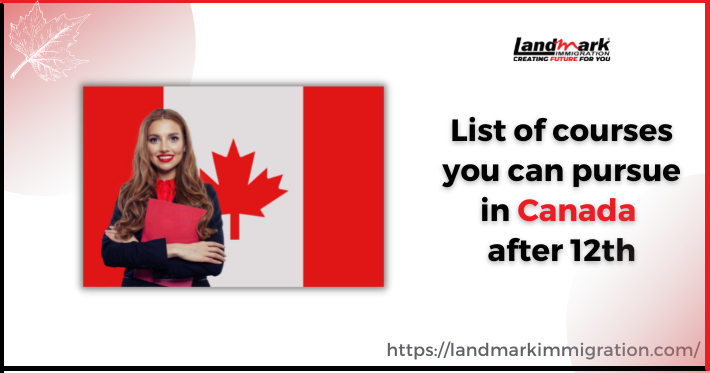 Due to the variety of options available and the scope of education in Canada, Canada is the first choice of Indian Students to pursue their career after the 12th.
Canada is one of the best countries in the world, having top-ranked universities and colleges. Also, the degree obtained from Canadian Universities has significant global value.
After 12th grade, students can pursue various courses in Canada depending on their interests and goals.
According to the statistics, Canada warmly welcomes more than one lakh international students from India every year.
If Canada is your preferred country to pursue your diploma course or graduation, then luckily, you are blessed in abundance with a multitude of career options so you can find the perfect course for your needs.
It is also essential to consider what life experience they would like to gain after completing a course or program in Canada. For example, if a student wants to work in the Canadian economy after they finish their coursework, they may want to explore business or engineering programs.
Canadian universities have a wide variety of programs, and you can find the perfect one for your needs by exploring the options available. If you want to study in Canada after passing the 12th grade, this blog will suggest many courses you can pursue.
Reasons why Indian students choose Canada for overseas education:
Better living culture
Simple immigration procedures
Affordable education in contrast to other foreign countries
Canada offers numerous ways for international students by which they can finance their education.
This country is known for offering complete support to the success and development of International students.
Canada strives to promote international ties and diversify the education industry.
What you choose after the 12th is one of the most decisive steps of your career. It lays the foundation for your future. Therefore you must be careful while choosing a relevant course for you.
Types of courses to pursue in Canada after 12th
Look at the type of courses Canada offers to international students. These are as follows:
Diploma courses for international students in Canada
It is an excellent choice for those students who wish to brighten their future. For this, Canada assets top-rated universities and educational institutes from where you can pursue your preferred diploma course.
For post-secondary students, the diploma courses need at least two years.
Also, it offers industrial and technical training to prepare you for the future.
Certified Programs
These educational programs range from three to eight months on a specific subject. Upon completing these certified programs, you may acquire the required skills for an entry-level job.
Associate Programs
Typically, these are two-year programmes in the arts, humanities and social sciences. It is equivalent to the first two years of four years degree programme.
For instance, on completion of an associate degree, a student is eligible to transfer his credits to a bachelor's degree.
Bachelor's degree
Undergraduate degree programmes have a duration of three to four years in Canada.
Top courses for medical students
Canada offers comprehensive courses for medical students after the 12th. A few of them are mentioned below:
MBBS
BDS
Bachelor of Pharmacy
Tech in Pharmaceutical
Tech in Food Science Technology
Veterinary Science
BSc in Cardiology
BSc in Physiotherapy
BSc in Zoology
BSc in Anesthesia
BSc in Biotechnology
BSc in Radiology
BSc in Nutrition
BSc in Biology
BSc in Bioinformatics
BSc in Botany
BSc in Forensic Science
Courses after 12th Non-Medical
Non-medical is one of the most promising streams offering a diverse range of choices
Tech/ BE
BSc (IT, Physics, Chemistry, Mathematics, Software)
BCA
Engineering (Civil, Mining, Computer Science, Chemical, Computer Science, Geological, Material Science, Electrical, Automobile, Structural, Mechatronics, Robotics, Textile)
Courses after 12th Nursing
Canada has one of the best world's healthcare facilities and services. Therefore it offers top nursing courses after the 12th. These are
General Nursing and Midwifery
BSc in Nursing
Auxiliary Nursing and Midwifery
Post Basic BSc in Nursing
Top Courses in Commerce
Canada has a vast range of colleges that offers diverse career courses
Bachelor of Computer Applications
Bachelor of Commerce
Bachelor of Business Administration
Bachelor of Economics
Bachelor of Statistics
Accountancy courses
Bachelor of Management Studies
Company Secretary
Certified Financial Planner
BCom in Computer Applications
BSc Actuarial Science
BBA LLB
BA LLB
Courses after 12th Without Math
Bachelor of Hotel Management
BBA (Supply chain management)
Bachelor in Journalism
Bachelor in Fashion Designing
BBA in Marketing
BA LLB
BBA in HR Management
Arts
BA (History, English, Sociology, Geography, Psychology, Economics, Political Science, Public Administration, Foreign Language, Language and Linguistics)
LLB
BA LLB
Courses after 12th Designing
Bachelor of Interior Design
Bachelor in Fashion Design
Bachelor in Video Game Design and Animation
Bachelor of Environmental Planning and Design
Bachelor in Communication Design
Bachelor in Graphic Design
Diploma in Apparel Design
Diploma in Graphic Design Production
Diploma in Interior Designing
Diploma in Graphic Design and Photography
Conclusion
In conclusion, you can pursue various courses in Canada after 12th grade.
By taking courses that complement your interests and goals, you will be well on your way to a successful future in the country.
As it is one of the most critical decisions in your life, do thorough research, gather information and build up understanding to conclude the best path for you.