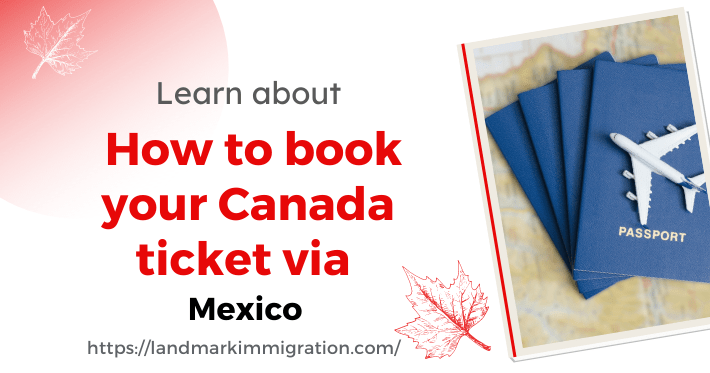 Canada has extended a ban on direct flights from India until August 2021. It means that there will be no direct flight from India to Canada until this time. It is also earlier to say if Canada is likely to lift the ban on direct flights.
It is shocking news for the immigrants or students looking to arrive there on time.
Fortunately, there are many other routes you can use to enter Canada such as Maldives, UAE and Spain.
However, the most popular and feasible route to reach Canada from India is via Mexico.
Here we will discuss how you can book a flight to Mexico from India and then enter Canada.
Please watch our video for in-depth information
Choosing the Flights from India to Mexico (From Delhi):
Here is a rundown of some flights that will take you to Mexico from India with minimum hassles and layovers.
• Air France: Halt at Paris
• KLM: Halt at Amsterdam
• Lufthansa: Halt at Frankfurt
You can book any of these three flights to reach Mexico from India.
However, make sure to check the latest travel guidelines on these airlines websites.
(Air France and KLM are the same, and your flights can be exchanged between these two airline companies)
Visit the Website of the Preferred Airline:
First of all, make sure to visit the airline you have chosen. This not only lets you book the tickets, but also inform you of the latest travel guidelines.
For example, if you are booking an Air France flight to Mexico, fill in all the details.
Choose visa as your additional document. This is because all foreign visitors travelling to Mexico for tourism, business or in transit to another destination (in your case, it is Canada) are not required to opt for a Mexican visa as long as they have a Canadian visa.
Your Canadian visa will let you enter Mexico so that you can board the flight to Canada from there. While you are booking a flight to Mexico, make sure to book your onward journey ticket from Mexico to Canada in advance.
A PCR or COVID test being valid for 72 hours is compulsory. If you are booking through KLM, you need to fill a form called the Quarantine Declaration form available on the website. Download and print that form, fill in the details and sign it, keep it along with you.
Book the Flight Yourself rather Than getting it Done by the Agent:
Book your flight tickets on your own to stay familiar with the processes and associated steps. If you book it through an agent, you will have to pay the fees. On top of that, you are likely to face troubles as you proceed.
Keep in mind to book a one-way trip.
Avoid the Flight Showing Two Transfer:
Don't book the flight that shows two transfers. Two transfers mean that a flight will halt at two different locations on its way.
For example, a flight can halt at Amsterdam and then go to the USA before Canada. But the US has restricted the entry involves visas and a lot of other hassles.
Maybe you don't get a single transfer flight on the same day. Check the availability on the upcoming dates. Transfer through single cities such as Amsterdam, Frankfurt and Pairs is easy and doesn't require you to go through COVID test or any other formalities.
Get Your COVID Test Done Prior Departure:
Make sure to get your COVID test done a day before your departure. The COVID test is valid for 72 hours.
Which Currency is Accepted for Shopping and Dining?
It is better if you carry your international credit cards with you. Ask your bank for the same in advance of your journey. If your card is not accepted, you can use currency exchange points located at airports.
Important Steps to Follow Once You Arrived in Canada
• You will be given forms once you board the light. Make sure to keep the pen handy to fill these forms.
• Once you landed at Mexico airport, it can take two hours to complete all the process due to the crowd. Make sure to keep your documents ready, including your COVID report, the forms you filled in the flight, visa and other things.
• Claim your baggage. Don't worry if your baggage is checked. It is a routine process.
• You need to hire a porter to carry your luggage, requiring you to keep Mexican currency handy to tip them. Mexicans are not that well versed in English. So make sure to provide your email ID in writing to avoid the hassle of misinterpretation.
Book the Hotel:
If your flight from Mexico to Canada is scheduled two days ahead, make sure to book a hotel in Mexico in advance.
All you need to download the Booking.com app. Also, download Google Translate or any translation app to deal with the language barrier in Mexico.
Board the flight to Canada on your scheduled date.
When you go to the board to Canada, if you have large baggage, you will be charged. Make sure to read the baggage policy of Air Canada. However, business class passengers need not pay.
What to Do Once You Reached Canada Airport
Make sure to use the Arrivecan app or online before leaving India to provide important travel information required for entry into Canada.
It is better if you download Arrivecan. Create your account with it. Keep filling in the details but don't submit the form till you reach Mexico. This is because you have all the details by this point. When you submit the details, you will get a receipt.
You will be asked to produce a visa.
You will be asked a few questions by the officer at the airport. Don't worry. These all are simple questions related to your documents which can be answered in plain YES or NO.
You can also be asked to share the receipt number generated by the Arrivecan app. If you are a student, they can ask about the college or course. Again, don't worry.
Once you are done with this, you are allowed to collect your baggage. Opt for your COVID test and your report will be sent to your email address. Then you can leave the airport.