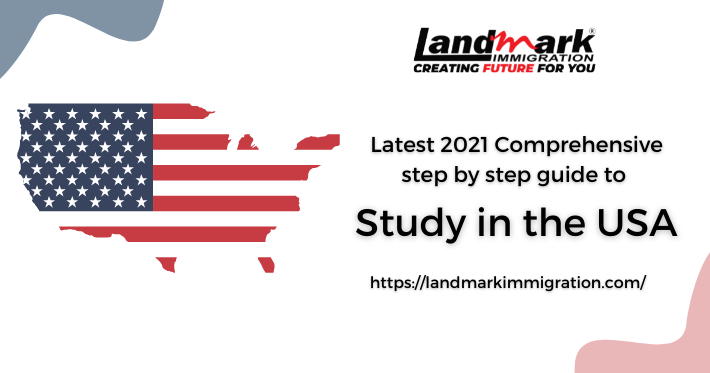 Latest 2021 comprehensive step by step guide to study in the USA
Are you looking to study in the USA?

You must have a lot of queries on your mind such as—
Is the US the right study destination? Can I study in the USA without IELTS? What about work extension in the USA? Is it easy to get a work permit in the USA? 
Please watch our video for deep details
Well, such concerns can be justified as most of the things related to visas and immigration are stressful.
Don't worry!
Here our immigration consultant has answered your all queries related to the USA study visa. Let's get it started.
What kind of questions is asked in USA Study Visa Interview?
You would be glad to know that the USA has one of the simple study visa interview procedures in the world. The questions are likely to be as simple as asking your name, father's name, background information, and study destination.
In fact, the visa is sometimes approved with basic questions. That's why the US study visa process is quite simple.
Why It Is the Right Time to Apply for US Study Visa?
Joe Biden, the current US president, has lenient immigration policies, unlike his predecessor Donald Trump. As a result, the US administration opened its door to over 2 lakh students from India.
That's why it is the right time to apply for a US visa, especially if your Canada study visa has been rejected. Moreover, the US government has a more flexible visa program than most nations.
How to Get Work Extension While Studying in the USA?
If you work alongside the study in the USA, you can be eligible for a work extension. Your chances are stronger if you are pursuing courses in Science, Technology, Engineering, and Mathematics. Besides, scholarship programs are also available.
What about Upfront Fee or Advance Money?
There is no need to pay a tuition fee upfront or GIC. Neither will you have to pay money in advance. The complete payment is made only when a visa is approved. But you are still required to show third-party funds as your living cost in the USA.
How to Do Part Time Job in the USA along with Study?
Part-time is allowed in the USA via OPT and CPT.
Can My Spouse Come with Me On My Study Visa?
Yeah, you can. But you are required to apply for a married spouse visa along with your study visa. Besides, the total cost will be increased 1.5 times more. You and your legal husband/wife will be interviewed.
You can be asked technical questions for taking your spouse with you. However, the chances of spouse visa approval are more if the main applicant is approved.
Can I go to the USA without IELTS?
Of course, you can apply for a US visa without IELTS. But, unlike Canada visa that is paper-based, it will be an interview-based process. Therefore, you need to find an immigration consultant who can help you prepare for an interview.
Keep in mind that he cannot sit in the interview on your behalf.
The other condition is that you should have your senior secondary education or graduation in English as the medium of instruction.
So these are some basic things you should know while applying for a US study visa. If you are new to the process, it would be better if you work with a reliable immigration consultant.
And if you are looking for the same, look no further than Landmark's immigration and consultancy services. We have been working for 13 years to help students like you achieve their study abroad goals.
We also offer personalized, unique, and responsive educational programs to help you go through the interviews and certain tests. Get in touch now!