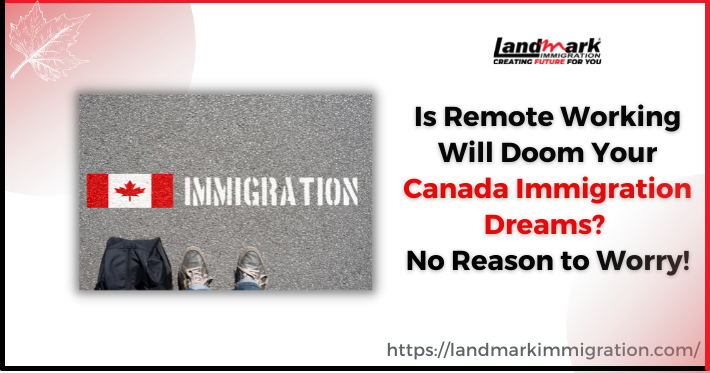 If you want to work and gain a permanent residency in Canada, you may find yourself worrying about remote work, particularly after the COVID-19 pandemic. You may be concerned if Canadian employers would hire foreign workers instead of remote workers. Many foreign workers find themselves worrying about the increasing trend of work-from-home and remote job positions. Particularly, many people are concerned about their prospects of gaining a PR. The good news is that there is no reason to concern yourself with this trend. Remote or work-from-home jobs are far from hurting your chance to settle and work in Canada. Let us look at some excellent reasons why remote opportunities will not diminish your dream to immigrate to Canada.
Many jobs cannot be performed remotely
Whether it be transportation, management, medical treatment, or construction, there are numerous jobs throughout all industries across Canada that simply cannot be performed remotely. The idea that the whole world could work from home and employees could simply work remotely is far from remotely. This means that you don't need to worry about remote jobs impacting your industry and particularly your plans to immigrate to Canada as well. Even if the job could be performed remotely, most employers would prefer candidates who can visit them.
Being in Canada can make all the different
Even for positions that can be held remotely, there is a significant difference in letting a foreign employee work in Canada as compared to an employee who is settled in Canada and works remotely. Many jobs these days require people to perform in a hybrid model, and employers prefer employees who are living in the country. After all, an employee could always transit and reach the desired location within a day or two.
Remote working is harder than most people think
Due to the COVID-19 pandemic, workers and businesses were forced to accept remote working conditions. Now that regulations have been lifted, working in an office does not pose a risk to employees. Surveys show that remote working conditions may not always be productive and profitable for businesses. This is why more and more companies these days are opting for a hybrid model, which suggests that after you immigrate to Canada, you can work in a flexible schedule.
The big-picture can play an important role
Remote working does not simply concern employees and businesses. You also need to consider the big-picture factors. Organizations encourage people to immigrate to Canada since the country is also in need of skilled workers who can improve the economy. Skilled workers that immigrate to Canada end up boosting demographics, reducing social and cultural barriers, creating demand for services and goods, and boosting tax revenues. This is why the government routinely highlights various programs using which foreign workers can easily immigrate to Canada and gain a Canadian PR.
Conclusion
As a foreign skilled worker living abroad, you need to look at your options to immigrate to Canada. There are numerous programs introduced by the government to make this process significantly simpler. Hence, it seems quite safe to proclaim that dream to immigrate to Canada does not need to be adjusted simply due to the trend of remote work. The fact is that Canadian employers always have preferred candidates who live in Canada and hold all the necessary documents to turn into viable, tax-paying members of the country. This is something that would never change, no matter whichever trend would be on the rise. It is highly unlikely for work-from-home and remote working positions to become a norm, particularly for international workers in Canada, as the country has a significant demand for skilled foreign workers.