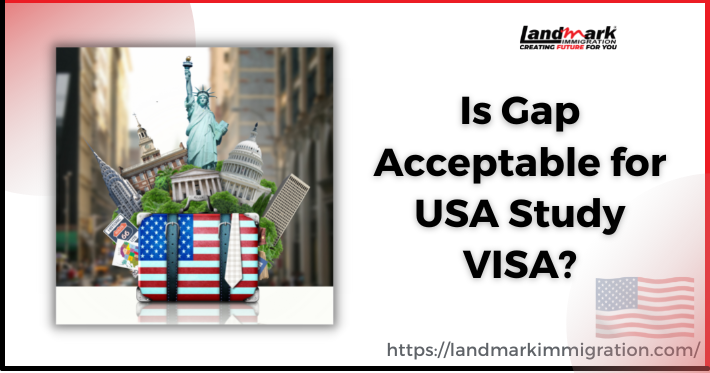 You might be wondering is gap acceptable for USA study visa. Well, you have come to the right place. A study gap has gotten quite common these days. It allows students to get a chance to explore their interests, get some hands-on experience, focus on deciding their field of interest, and prepare for entrance tests.
A gap year is generally taken before a student goes for higher education and is meant to ensure that they are well prepared before they opt for this new phase in their lives. Different countries have different rules related to a study gap.
More and more students are worried about how their study gap affects their chances of getting into their dream universities and colleges in various countries, including the USA.
In this article, let us explore is gap acceptable for USA study visa:
What is a study gap?
A gap year or a study gap is a year or a semester of academic break. This break is generally taken by students after finishing high school or after they finish their undergrad.
During this academic break, students can enhance their individual awareness, practical skill set, or professional knowledge.
They can opt to complete certifications, take up short courses, take an internship or a job, volunteer, or enroll in vocational classes. 
How much of a study gap is acceptable in the USA?
The American Education System or the education in the United States is stringent for study gaps. A study gap is acceptable in the country as long as some specific conditions are met.
Generally, colleges and universities in the USA accept a study gap of a year. However, if your study gap extends beyond a year, you need to justify it comprehensively with a piece of evidence.
Taking a long gap is not generally recommended unless the college feels that the study gap adds a specific level of significance to the student.
For example, if your gap was due to your enrollment in a full-time job, it is considered work experience.
The American education system appreciates real-world experiences and vocation and considers students who have used their study gap to enhance themselves. The applicants have to mention the reason for their study gap and explain it with substantial evidence. 
What is an acceptable motive for taking a study gap?
Here are some acceptable motivations for taking a study gap:
Volunteering 
Social work 
Personality development 
Internships
Full-time employment 
Vocational training 
What are the advantages of taking a study gap?
Here are some advantages of taking a study gap:
A study gap offers a chance for students to investigate the available opportunities before applying to a college.
It can also help in reducing stress levels by shifting away from standard education patterns.
A study gap can offer students time to focus on skill development.
Students could focus on character and personality development before they apply to a university.
Working or doing an internship during a study gap can help students in gaining some valuable real-world experiences. With work experience, these candidates are bound to be more attractive than other applicants. Work experience can even help in increasing the funds available for higher education and relieve the financial burden. 
A gap year enables students to be more involved in social work and volunteer to give back.
It can help students learn the culture of the college, university, state, and country they wish to study in. 
Study gaps help students in gaining a broader perspective, expand their horizons, and meet new people. This automatically helps students in building an impressive resume.  
It can also allow students to complete certificates and part-time courses in the field that they are interested in. 
Students could even learn foreign languages and get out of their comfort zone. This will go a long way in making them adaptable and influential.  
How to cover the gap for the Study Visa?
Usually, students have to provide proof as well as a descriptive explanation for the study gap that they have taken. Here are some ways to cover the gap for the study visa:  
If a candidate is suffering from a diagnosed medical condition, they need to provide medical proof such as medical reports and medical certificates.
If a candidate is involved in an internship or a job, they need to provide a letter of recommendation or an experience certificate from the employer. The purpose of the certificate is to confirm the study gap. Students can also use salary slips as valid submissions.  
Participation evidence needs to be provided if a candidate was involved in social work or volunteering. Proper proof needs to be offered to validate hobbies as well. Hobbies need to show a specific development in the personality or skill of the candidate. 
If a candidate is pursuing certificates or part-time courses, they need to be provided as submissions. 
Keep in mind that it is crucial to gather all the supporting documents related to your study gap before you apply to the university or college of your choice. 
Conclusion 
A study gap can be an exciting and beneficial time for students. It is a chance to explore their interests, give back to society, gain some work experience, or prepare for an entrance test.
A study gap can also maximize the chances of getting into the college of your choice if it reflects the effort that you have put in to improve your skill set and your personality. 
Even though the most widely accepted study gap in the USA is a year, students can also get accepted into universities when they have a longer gap by offering a justification.
Justifying your study gap not only acts as proof but also gives you a chance to show the work that you have put in. There are various effects that a student may experience on their study gap.
The experience generally is based on how you choose to spend this time. You may enjoy it immensely by focusing on your fields of interest, gaining work experience, learning practical skills, focusing on character and skill development, or being well-prepared for your future pursuits.  
For more such queries and information, contact our experts at Landmark Immigration.