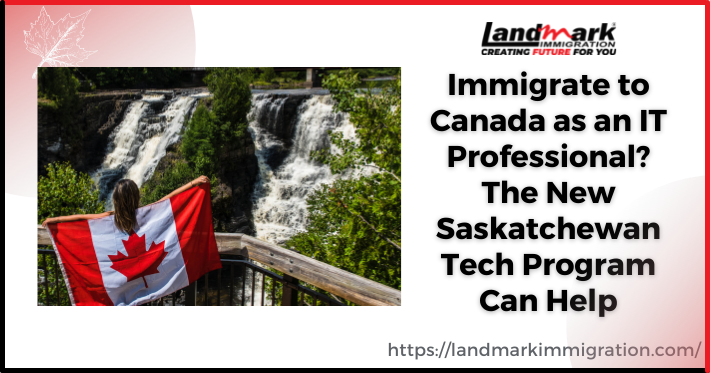 Are you looking to immigrate to Canada as an IT professional?
Opting for a new tech immigration program launched by Saskatchewan can help you.
Saskatchewan has unveiled the new Tech Talent Pathway program categorized under the Saskatchewan Immigrant Nominee Program (SINP) on March 7. This new program aims to attract skilled tech talents to Saskatchewan.
This new stream will support and speed up the immigration process for tech workers already being employed in Saskatchewan and those who have been working outside Canada.
Speaking on the possibility of this new program, Jeremy Harrison, the Immigration and Career Training Minister, said in a press release—
"As Saskatchewan emerges from the impacts of the global pandemic, our technology sector will be an important driver of economic growth. The new Tech Talent Pathway provides our Saskatchewan employers with a dedicated stream for the attraction of highly skilled talent into our thriving technology sector."
Dr. Aaron Genest, the SaskTech President, opines," the Saskatchewan economy depends on our ability to attract and retain highly skilled immigrants who form critical anchors of specialized skills in our communities and workforce. The Tech Talent Pathway offers a competitive advantage to Saskatchewan industries and is unique in Canada. It streamlines the immigration process and acknowledges that we want our immigrants to stay right here in our province to join us in creating innovative solutions for Saskatchewan to export to the world."
How to Qualify For This Tech Talent Pathway for Saskatchewan
If you are looking to immigrate to Canada as an IT professional under this new program, here are the eligibility criteria to know.
Must have a Canadian Language Benchmark (CLB) level 5 if not working in Saskatchewan at the time of application, or a level 7 if applying through Express Entry;
Must have an employer-specific SINP Job Approval Letter for an acceptable occupation in the technology sector;
One year of job experience in that occupation in the last five years, or six months of work experience in Saskatchewan;
education beyond high school; &
Be eligible for professional licensure in Saskatchewan (applicable to eligible computer, software, electrical, and electronics engineers).
Program criteria, according to SINP, can change at any time. When decision-makers receive the application, they will consult the material on the government's website. There is no certainty that your application will be nominated.
If you received a job offer in one of the occupations listed below by the NOC or the National Occupation Classification code, you might become qualified for the Saskatchewan Tech Talent Pathway.
0213 Computer and information systems managers
2133 Electrical and electronics engineers
2147 Computer engineers (except software engineers and designers)
2171 Information System analysts and consultants
2172 Database analysts and data administrators
2173 Software engineers and designers
2174 Computer programmers and interactive media developers
2175 Web designers and developers
2281 Computer network technicians
2282 User support technicians
2283 Information system testing technicians
What are the Additional Eligibility Criteria for Tech Talent Pathway
You can be eligible for the program if you live outside Canada or have legal status in Canada and don't have refugee status. No matter if you have applied for an Express Entry or not, you should have a tech job offer in Saskatchewan. Apart from that, you should have a valid SINP Job Approval Letter to prove your intent to work and live in Saskatchewan.
Applicants from Saskatchewan must have worked full-time for the employer offering the eligible job for at least six months and currently reside in the province. Full time, according to the government, is defined as working at least 30 hours a week.
Applicants must have at least one year of work experience in their occupation within the last five years if they have not been employed full-time by their sponsoring company for at least six months.
Applicants from outside Canada and other provinces must have one year of related work experience in their planned occupation within the previous five years.
Employees must meet their employers' language needs when it comes to language requirements. If you are not currently employed by the employer offering the job, you must have CLB 5 or above in English or French.
You must be eligible for a Saskatchewan license if your profession demands it. The following tasks are required of a computer engineer, a software engineer (but not a designer), and an electrical and electronics engineer:
Submit confirmation from the Association of Professional Engineers and Geoscientists of Saskatchewan (APEGS) that an application for registration as an Engineer-in-Training has been granted;
Submit a letter from the APEGS showing that they have been assigned Confirmatory Exams.
You'll also need an education relevant to the position you've been offered, such as a Master's or Bachelor's degree; a three-year university or college degree; or a two-year diploma from a university, college, trade or technical school, or other post-secondary institution.
Candidate Eligibility Criteria for Express Entry
Applicants in the IRCC's Express Entry pool who live outside of Canada or have legal status in Canada, are not refugees, and have a valid Express Entry Profile Number and Job Seeker Code may be eligible for this sub-category.
You must have passed the Express Entry language test administered by the federal government.
To create a profile, you must be eligible for one of the Express Entry-managed programs. The Federal Skilled Worker Program or the Canadian Experience Class are the most common options for tech employees. The third Express Entry-managed program, Federal Skilled Trades, is mostly for IT employees who are ineligible for the other two.
Wrapping Up…
The new Tech Immigration Program by Saskatchewan is a ray of hope for many skilled tech workers. However, you are required to fulfill all the eligibility criteria to successfully immigrate to Saskatchewan as a tech worker. Hope this piece of information will help you!
What do you think? Let us know by commenting below! Best of luck!