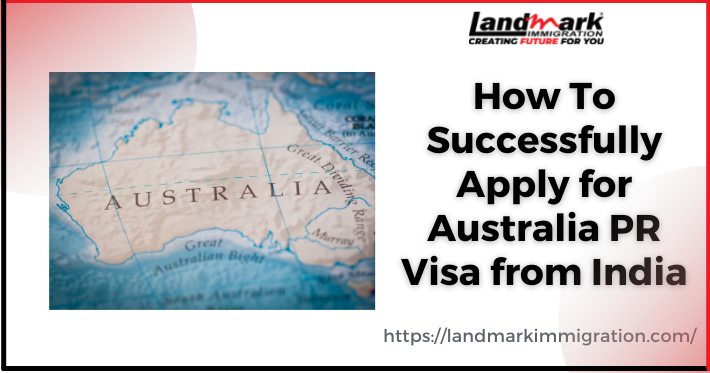 With better immigration policies, easy processes, and accessible rules, many foreigners are being attracted to obtaining an Australia PR Visa from around the world. However, if you consider India, in particular, numerous applications have been filed over the past few years. If you are wondering how to apply for an Australia PR visa from India successfully, here is a comprehensive guide: 
The Australia PR Visa: What is it?
The PR stands for a "permanent resident" visa. It is designed for people exclusively that are not native citizens of the country. The process is extremely organized and systematic however it is also quite advanced at evaluating the applications based on the credentials of the applicants.
Until the five-year travel facility that accompanies the PR visa gets expired, the visa holder can leave and freely return to Australia. But, an Australia PR visa holder is not granted the right to vote in the state they are living in unless they get registered before 1984.
With an Australia PR, you are eligible to apply for citizenship right after you complete a specific waiting period. Once this duration gets complete, you need to undergo a few formalities such as the citizenship test. The process could take up to 12 months
Requirements to obtain an Australia PR Visa
Obtaining an Australia PR visa is established on a point-based approach. Hence, the method to attain it is a combination of both online and offline activities.
The main requirements for obtaining an Australia PR are:
Keep all required documents ready
Along with the routine travel and educational documents, you will also need to obtain two additional documents:
International English Language Testing System (IELTS) results to see how proficient you are in the English language.
Skill assessment results that are issued by an assessing authority and check how qualified you are in a specific field.
Make sure that you choose the appropriate visa
You need to comprehend that there are various kinds of Australia PR visas. Therefore, you must choose the one that completely suits your requirements. Here are the most popular categories:
Subclass 190: State Nominated PR Visa
Subclass 189: Non-sponsored visa
Subclass 186: Employer nominated visa
Select a profession out of the Skilled Occupation List (SOL)
After you select a specific PR visa, you need to select an occupation out of the Skilled Occupation List (SOL).
Apply for the Australia PR visa using the point-based system
Once you are done with the above steps, head right over the point-based system of Australia to apply directly. To do this, you need to submit an Expression of Interest (EOI) online in the Australian Skill Select System. This is an online program that maintains and stores the profile of an applicant and other details such as age, name, gender, language ability, qualification, and work experience.
Based on these profile factors, this system would then generate points. The collective score of an applicant needs to be at least 60 points to help them in applying for the particular PR visa using the system. The more points you have, the more your chances are to acquire an invitation that helps you in applying for an Australia PR visa.
Health and character requirements
In addition to all of these requirements, you also need. to meet the health and character requirements to obtain an Australia PR visa. Your character needs to be immaculately good, and you need to be fit to live and work mentally in Australia.
Conclusion
The Australia PR visa offers you a lot of benefits during your stay. You can obtain numerous benefits to help you live more comfortably such as traveling freely in and out of the country. By obtaining an Australian permanent resident visa, you can enjoy numerous rights and privileges just as citizens do, as well as getting access to free or subsidized legal and health services. Once an India acquires an Australian PR visa, they can easily live in Australia for as long as they want. Along with the visa, they can also get access to the five-year travel facility.