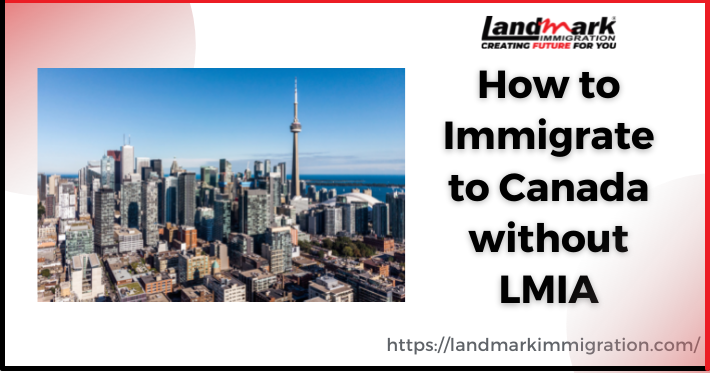 LMIA or The Labour Market Impact Assessment is performed by Economic and Social Development Canada (ESDC). Generally, an employer is required a positive LMIA to employ an international worker and support their job offer under the Federal Express Entry system. LMIA also reviews the effect of recruiting a foreign worker in Canada.
However, if you are an Express Entry applicant, you don't need an LMIA from your employer under the following conditions for a job offer.
If you are employed full-time on a valid work permit for a minimum one year or an equivalent amount of part-time
If you get a valid job offer in hand
If you received a valid work permit with LMIA exemption under an international agreement
Jobs not covered by the LMIA (the Labour Market Impact Assessment).
If you are temporarily working in LMIA-exempted employment, which specifies a specific employer/s and is:
Covered by CUSMA or GATS international agreement and non-trade agreements, you may be exempted from requiring LMIA to qualify for Canadian immigration through Express Entry. Traders, investors, and professionals may be included.
Covered by an agreement between Canada and a province or territory. This includes "major investment" initiatives.
Exempted based on "Canadian interests," such as significant benefit, where an employer can show that you have the potential to benefit Canada in social, economic, or cultural ways. Self-employed engineers, creative artists, technical workers, employees transferred inside a company, and employees covered by Mobilité francophone are all included.
Reciprocal employment permits international workers to find work in Canada while Canadians find jobs in other countries. Professional coaches and athletes working with Canadian teams, teenagers and young professionals participating in International Experience Canada, a work abroad program, and professors and visiting lecturers participating in exchange programs are all examples.
Jobs designated by the minister, such as researchers, visiting professors, medical residents and fellows, and so on.
Except for volunteers, charity and religious work are prohibited.
INDIVIDUALS THAT ARE EXEMPT FROM THE LMIA
LMIA is not required for the following people:
Dependents of skilled foreign workers with valid work permits in Canada, including spouses and children
Provincial Nominees
Intra-company Transferees
Foreign workers working for a charitable or religious institution in Canada
Ph.D. students enrolled in a post-doctoral fellowship program at any Canadian DLI
Spouses and common-law partners of international students studying in Canada with valid study permits
Without the LMIA, there are several options for immigration to Canada.
The following are the most common and accessible Canada PR pathways for people who want to migrate to Canada but don't have a job offer or LMIA from a Canadian employer:
Federal Skilled Workers Program (FSWP)- The FSWP is one of the most popular economic immigration programs among skilled foreign workers, and it is administered through the Federal Express Entry system. To be eligible, you must have the following qualifications: competent job experience, language proficiency, and education. On the FSW points grid, you must achieve 67 points out of 100 based on six selection variables.
A minimum of one year of skilled work experience in any National Occupational Classification (NOC) job group, including Skill Level O, A, or B, is required. Work experience can be obtained outside of Canada, but it must have been obtained full-time or part-time during the previous 10 years.
To be eligible and enter the pool of candidates, you must also meet the additional minimal eligibility criteria, which include:
to achieve a CLB 7 in each of the four language abilities
completion of a certificate, diploma, or degree, as well as an Educational Credential Assessment (ECA) report for schooling received outside of Canada
The Federal Express Entry program also oversees the Federal Skilled Trades Program. It's suitable for competent foreign nationals who want to apply for a permanent residency visa in
Canada based on their qualifications in a certain skilled trade
To be eligible for FSTP, you must have a certificate of qualification in a specific skilled profession. A Canadian provincial, federal, or territorial body must issue the certificate.
Candidates must also have a minimum of two years of work experience (full-time or an equivalent amount of part-time in a skilled trade) within the previous five years and meet the language requirement, which is CLB 5 for Speaking and Listening and CLB 4 for Reading and Writing.
Aside from the FSWP and FSTP, the following PNPs also provide a permanent path to Canada without the need for a job offer or an LMIA:
Ontario Immigrant Nominee Program (OINP)- Ontario's Express Entry – Human Capital Priorities Stream offers the best Canada PR pathway to applicants who don't have a job offer from a Canadian employer.
Saskatchewan Immigrant Nominee Program (SINP)– Saskatchewan's International Skilled Worker category under SINP have two streams that are ideal for you to apply for Canada PR without a job offer or LMIA, including:
Occupation In-Demand
Express Entry
Alberta Immigrant Nominee Program (AINP)– Under Alberta Express Entry Stream, you don't need a job offer and an LMIA to qualify. All you need is to meet the selection criteria for any one of three Express Entry programs, including:
Federal Skilled Worker Program
Federal Skilled Trades Program
Canadian Experience Class Program