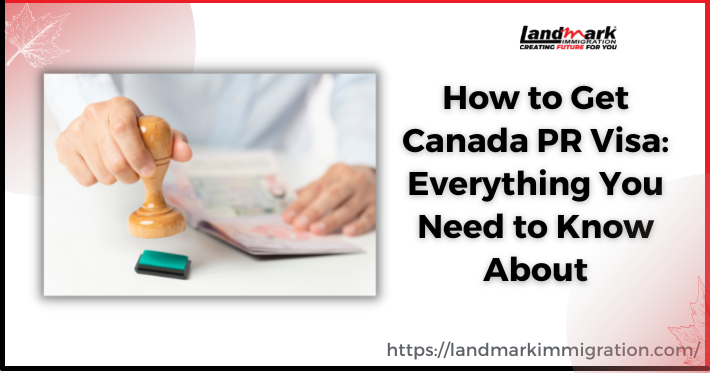 The culture, living conditions, and career opportunities in Canada seek the attention of many to live in this beautiful country forever.
Getting a Permanent Residence in Canada is an excellent opportunity for anyone who wants to live in Canada. 
The requirements are low, and you can apply in various ways.
This blog will highlight the ways to get Canada PR Visa.
Keep reading.
Documents you need
Whether you are applying for Canada PR Visa for the first time or want a renewal of your existing visa, you must have a list of documents.
This list will depend on the type of application you are making. 
However, you should ensure that you are keeping this list updated.
You will also need to provide a valid passport. This document is used as an international travel document. 
A document is also a good form of evidence if you are travelling to Canada. 
You can check with Immigration, Refugees, and Citizenship Canada for the documents you need to bring.
You may also have to take a language test. This test will be considered in the Comprehensive Ranking System score calculation. 
Depending on your language proficiency, you can gain points.
You will also need to provide evidence of your employment. 
You will need to submit proof of your employment contract, letter of employment, or other documents identifying you as a permanent employee.
Visas you can apply for
Getting a permanent visa to Canada is a challenging process. 
The government has introduced several channels to help people immigrate to Canada. 
However, applicants must meet the eligibility requirements before pursuing any of these. They must also provide the required documents and documentation.
Firstly, applicants must be 18 years of age or older. They must also be able to prove their eligibility by submitting their required documents and proof of the fees that they have paid. 
Afterward, they must fill up an application and attend a visa interview.
After the visa interview, applicants will receive a reference code. 
The code will help them create an account on the Government of Canada website. 
They can use the report to apply for different programs. Once approved, they will receive a Permanent Resident Card, allowing them to travel to Canada.
Permanent residents can also sponsor dependent children. 
However, they cannot vote in federal elections. They also receive benefits such as survivors' benefit schemes and tax concessions.
Time it takes
Getting Canada PR Visa is a long process. It can take five to eight months, depending on which immigration program you are using. 
But if you are desperate, you can expect the process to go on in a quick note.
The PR application process can take up to twelve months, depending on the immigration program. 
The fastest method is to apply through the Express Entry System. 
This is an online system used by Immigration, Refugees, and Citizenship Canada to screen and select applicants. 
In addition to submitting an online application, you will be required to upload documents and provide proof of your financial capacity.
The Express Entry system will take between three and six months to process. 
You will be ranked and notified of your application status. In addition, the IRCC will mail you your PR card if you are approved. 
You may be asked to pick up your PR card in person at an Immigration, Refugees, and Citizenship office if you are eligible.
Requirements
Obtaining a Canada PR Visa is essential to becoming a Canadian citizen. 
Permanent residents have several legal rights and are protected by law. 
In addition to these rights, permanent residents are granted access to free health care for themselves and their family members. 
They are also eligible to apply for citizenship.
The PR requirements in Canada vary depending on the type of immigration program. 
Candidates can apply under one of three economic immigration programs. The application process takes around three months.
Applicants must have a valid passport and submit an application to Immigration, Refugees, and Citizenship Canada (IRCC). 
After this, the candidate will be notified whether their application has been approved. If the candidate's application is approved, the candidate will receive a Confirmation of Permanent Residence (COPR) document. 
The applicant will also be asked to provide a photo within six months of relocating to Canada.
Express Entry is one of the most popular immigration programs in Canada. 
It is a points-based system that assesses candidates based on their work experience, education, and age. 
Candidates must have 67 points out of 100 in order to qualify for a PR visa.
The Bottom Line
If you are dreaming of getting Canada PR Visa, the details shared in this article can be beneficial for you.
If you are still confused about your next step in getting PR, contact Landmark Immigration.
With years of experience in this domain, Landmark Immigration is one of the best platforms to serve aspiring immigrants.
Visit us at Landmark Immigration to make your dream to get PR in Canada to come true.