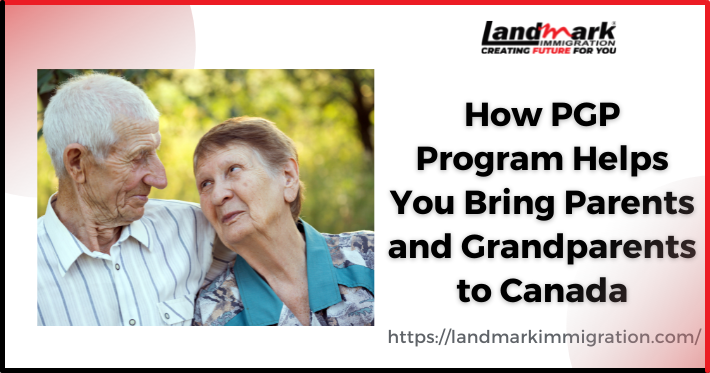 The Parents and Grandparents Program (PGP) in Canada is the program through which a permanent resident or a Canadian citizen can sponsor the immigration of their parents or grandparents.
This program is expected to receive 23,500 applications under this program.
This period begins at the time the relative becomes a permanent resident and the sponsorship is maintained even if the relative obtains Canadian citizenship or if the person who financially takes care of their relatives loses their job or goes through another situation that makes their finance.
Due to the great responsibilities that a sponsor has, he must demonstrate that he has sufficient income to support himself and all the people for whom he will be financially responsible in Canada.
Applications to sponsor parents and grandparents to live in Canada can only be submitted once a year, and the process is generally available from October to November. The government selects the candidates at random and sends invitations so that only those chosen continue with the process.
In 2021, the PGP program has accepted up to 30,000 additional applications in the last quarter, giving more Canadian citizens and permanent residents the opportunity to sponsor their grandparents and parents for PR in Canada.
By sponsoring parents or grandparents, a person agrees to be financially responsible for them for 20 years. In the case of the province of Québec, the term is 10 years.
The IRCC eligibility criteria for PGP sponsors are :
Be a Canadian citizen or permanent resident, or a registered Indian under the Canadian Indian Act;
Be at least 18 years of age;
Reside in Canada;
Meet the minimum income level needed for PGP (married and common-law spouses may combine income if they wish to co-sign the application) and provide proof of income to IRCC by submitting Notices of Revenue Agency Assessments Canada (CRA);
Sign a legal commitment that they agree to financially support the sponsored persons for 20 years and to reimburse any social assistance claimed by the persons within this period.
The minimum necessary income (MNI) requirement depends on the size of your family and where you live in Canada. If you live outside of Quebec, you will be assessed based on your income in tax years 2021, 2020, and 2019. If you live in Quebec, you will only be assessed on your income in the last 12 months.
In simple words, to qualify for this program, you must be able to financially support your parents or grandparents. You will be responsible for them from the moment they set foot on Canadian soil. This includes taking care of your basic needs like shelter and food. As a sponsor, you must ensure that your sponsored family member is not claiming government welfare.
Whom You Can Sponsor?
Parents, grandparents are associated by blood or adoption.
Divorced, separated, common-law partners
Can You Sponsor More Than One Person Under PGP?
The Government of Canada allows residents to sponsor both parents or two grandparents if they have sufficient income to do so.
However, for this, it is not necessary to make an application. It is enough to specify in a letter that the request is being sent for two people, even if in the first application only the interest in a parent or grandparent was mentioned.
It is also possible to request the sponsorship of parents and grandparents at the same time, but for this, different requests must be sent per couple.
What Makes You INELIGIBLE for PGP As a Sponsor?
You may not be able to sponsor a parent or grandparent under the family sponsorship programs if…
You are receiving social assistance. The only exception is if it is disability assistance;
You have a history of non-compliance with a company. If you have sponsored a family member, spouse or dependent child in the past and did not meet the required financial obligation, you may not be eligible to sponsor again. The same applies if you have not paid family or child support;
You are in unliquidated bankruptcy;
You have been convicted of a crime involving harm to a family member; and
You are under a removal order
The IRCC will conduct extensive background checks to ensure that you do not possess any of these factors that would disqualify you as a sponsor.
TRY SUPER VISA IF YOUR PGP DOESN'T WORK 
The Super Visa is another option you can consider to join your parents and grandparents in Canada. The Super Visa allows your parents and grandparents to enter Canada multiple times over 10 years. It is an alternative to the PGP program and used by the people who are not successful in getting the PGP program.
So you must have understood how to sponsor your beloved parents and grandparents to Canada. You need to make sure that you have sufficient income proof to show that you can support them. For more details and updates, visit the official page of the program HERE.