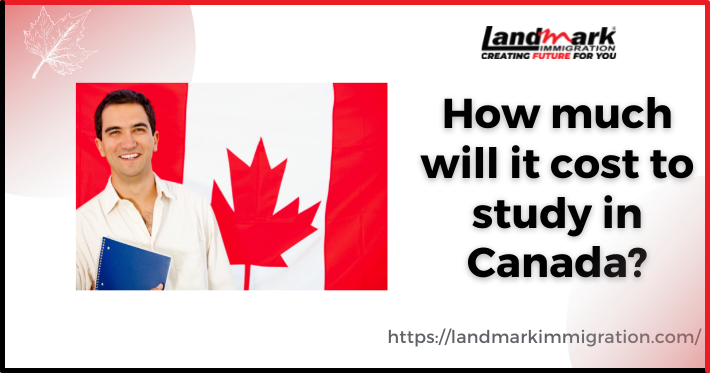 It is one of the most prestigious dreams of Indian students to study in Canada, but how much money they will need to spend to achieve their dream always confuses them. Here we have the answers to all the possible questions students who dream to study in Canada have.
Luckily Canada is less expensive as compared to the UK and USA and the quality of education Canada offers is not less than any other country. Canada doesn't only provide a world-class education but it also provides the ideal environment to enhance the overall personality of the student.
University Of Toronto, McGill University, University of Waterloo are some of the most prestigious Universities of Canada which provide high-quality education as well as a vibrant atmosphere.
Student Visa and Application 
To study in Canada, first, you need to obtain a student visa that will work as a permit for you to stay in Canada during your study period. But one thing is here to know that if your course lasts only for 6 months or less than that then you don't need to apply for a student visa.
Fees to pay in College vary according to the college and the University you have chosen and your parent country.
Minimum Bank balance required to get a Student Visa
According to Canadian rule, you must have at least INR 6, 00,000 in your account to acquire a student visa and permit. This amount and funds will ensure the Canadian government that you are capable enough to survive in Canada without any financial issue.
Tuition fees – Is it really unbearable?
Generally, we thought that the tuition fees are the same high when it comes to top countries of the world but here we want to highlight that If your dream is to Study in Canada then this is less expensive as compared to other major countries like the USA, UK, etc.
Every university in Canada has its own standard when it comes to charging tuition fees. It totally depends upon the course you have chosen and the criteria are also different for an international student or domestic student. Student.
According to the report of Statistics Canada, the average tuition fees for students who are not from their native country have increased to 4.9%. It is approximately. $33,623 in the last year. So you can get from here that is a gain of 7.1% in 2020/2021.
Tuition fees for Canadian universities for full-time Canadian and international students studying humanities and arts, 2020-2021.
Universities
Tuition Fees for foreign students ( Under Graduate Program)
Tuition Fees for foreign students ( Graduate Program)

 

University of Toronto           
$37,680 – $58,970
$6,210 – $41,470
McGill University
$29,139 – $33,852
$6,037 – $17,096
The University of British Columbia
$27,292 – $39,574
$8,952 – $8,952
University of Alberta
$29,500 – $29,5008
$11,186 – $11,186
McMaster University
$29,139 – $33,852
$6,037 – $17,096
University of Waterloo
$30,237 – $40,325
$4,128 – $14,508
Cost of Bachelor's Degree
Approximately CAD 12000 (INR 6 46,000) to CAD 30,000 (INR 16, 16,000) is the average cost of earning a bachelor's degree in Canada. There is an average tuition fee of CAD 22,000 (INR 11, 69,000) for these programs. A CAD 6,500 (INR 3, 50,000) degree in Humanities, Business and Management will cost you between CAD 5,500 (INR 2, 96,000).
Cost of Master's Course
When it comes to the expenditure for Master Courses like MBBS or MS. In that case, you need to pay an average of CAD 18,000 (INR 9, 54,000) in tuition fees, per year. Management programs (MBAs) are among the most expensive courses offered.
In general, the tuition fee for regular MBA programs is approximately CAD 28,000 (INR 14, 75,000), while the tuition fee for Executive MBA programs is approximately CAD 57,000 (INR 30, 31,000).
Note: University fees may differ from one to another, and all figures outlined relate to the financial year 2020-21.
Other Options
If you are looking for some other options rather than bachelor's and master's then you can also opt for any 1-year diploma and PG course. These courses are less expensive as compared to bachelors and masters. Canadian Universities provide various specialized diploma courses that students can go for.
What is the cost of living in Canada?
If you are thinking that apart from tuition fees and university fees how much you need to pay for living in Canada then it totally depends upon your standard of living and the state you have chosen for your studies. According to a survey Toronto is the most expensive city in Canada similarly Vancouver and Montreal are also very expensive in terms of rent.
Although when it comes to student accommodation, generally students prefer university accommodation a large number of students also prefer home-stay and private accommodation. University accommodation is cheaper than private and home stay.
If you are looking for Campus accommodation then you need to pay an average of CA$3,000-7,500 (~US$2,271 – 5,680) per year. Private shared accommodation can cost you more and it is around CA$8,400 (~US$6,361) per year plus bills.
According to a Canadian rule, you need to invest in health insurance is compulsory and this will averagely cost you around CA$600-800 (~US$455-607) per year.
Now you should also need to know about the travel expenses. Travel expenses in Canada are not easily bearable that's why generally students always opt for subways, Buses, and trains for traveling. If we talk about the money then it will cost you around CAD 80 (INR 4,300) to CAD 110 (INR 6,000) per month.
Scope of part-time jobs for Students
If you want to support yourself with a part-time job then you need to obtain a work permit. You can work there part-time in your college days and full time in your breaks means holidays like summer, winter or any other occasion.
If you want to enjoy some other benefits of government schemes and programs then you need a Social Insurance Number (SIN). This will be issued by Service Canada to let you allow to work in Canada for 20 hours per week in your academic session and as we mentioned full time in your vacation period.
Scholarship Options are like Drowning with straws
We understand that it's not easy to bear all the expenses without leaving your comfort zone. To make it easy for you we have some scholarship options which will help you to get rid of this difficult situation.
Here some government scholarship programs are as follows: –
Canadian Commonwealth Scholarship and Fellowship Plan
Ontario Graduate Scholarship Program
National Research Council of Canada (NRCC)
Quebec Provincial Government Scholarship
Ontario Trillium Scholarship
Partnership Grants by Social Sciences and Humanities Research Council of Canada
Banting Postdoctoral Fellowships
Vanier Canada Graduate Scholarships
So this is all you need to know about the expenses and the cost you need to pay to live and study in Canada but if you still feel that any of your doubt is unclear talk to our experts  by clicking here and vanish all your doubts that obstacle your dream of study in Canada.