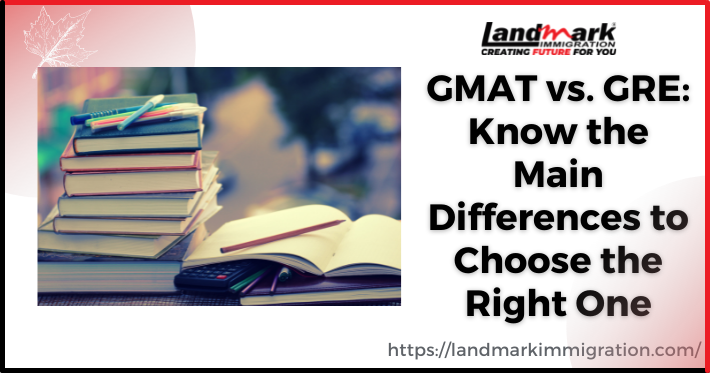 Today, more than 1,200 MBA programs accept GMAT or GRE scores for business school admissions.
This means that there are many options for you.  Before deciding which test to take, you should decide where you want to study. Once you decide, find out what the admission requirements are.
Generally, the GMAT is required for master's degrees in business or finance, and the GRE is required for master's degrees in other areas, such as architecture, logistics, engineering, etc.  However, each year more universities accept both exams. Therefore, the admission requirements determine which exam you must take. In case both the GMAT and the GRE are accepted, we give you a brief guide to the main differences between these exams.
UNDERSTANDING THE STRUCTURE AND SCORING OF THE GMAT VS. GRE
On April 16, 2018, some changes were made to the GMAT exam. The Quantitative Reasoning section went from 37 questions in 75 minutes to 31 questions in 62 minutes. The Verbal Reasoning section was reduced from 41 questions in 75 minutes to 36 questions in 65 minutes.
In this way, the number of "non-assessed" questions that were used for research was reduced, and in the same way, the total time of the exam was reduced from 4 hours to 3 and a half hours (including breaks and instructions).
GMAT
GRE
Why should I take it?
The exam is required almost exclusively for admission to most business schools and/or MBA programs.
The exam is required for admission to most graduate schools and a growing number of business schools.
Exam Structure
The GMAT has an Analytical Writing section that consists of writing an essay lasting 30 minutes. It has an Integrated Reasoning section, which consists of 12 questions in 30 minutes. It also has a Quantitative section of 31 questions in 62 minutes. Likewise, it has a Verbal section of 36 questions and a duration of 65 minutes.
The GRE contains a section on Analytical Writing, with a duration of 60 minutes, which consists of writing two essays of 30 minutes each. In addition, it has two sections of Verbal Reasoning, each one of 20 questions and with a duration of 30 minutes each. There are also two Quantitative Reasoning sections, each containing 20 questions lasting 35 minutes each. Finally, it contains an experimental section, with 20 questions, lasting 30 to 35 minutes, which can be verbal or math but will not be considered as part of your score.
Exam Format
The GMAT is also computer-based and is an adaptive test, with the difference that each individual question determines the difficulty of the next question. Once you answer a question, you can't go back to it.
The GRE is done by computer. Its sections are adaptive, that is, they adjust to the test taker: it starts at an intermediate level of difficulty, and from there, the score for the entire section will determine the difficulty of the next section on that topic. In this exam, it is possible to return to the questions that you have already answered.
How is it scored?
The overall or composite GMAT score ranges from 200 to 800 in 10-point increments. Only the scores for the Verbal and Quantitative sections are considered in this score.
You will also receive specific scores for each section. The Verbal and Quantitative sections have score ranges from 0-60, in one-point increments. Analytical Writing and Integrated Reasoning scores are not included in the composite score. Analytical Writing has a score range of 0-6, in half-point increments, and the score range for the Integrated Reasoning section is 1-8, in one-point increments.
The score range for the GRE Analytical Writing section is 0-6, in half-point increments. Both Verbal Reasoning and Quantitative Reasoning are scored in the same way. Your scoring range is 130-170, in one-point increments. Scores from three sections are generally reported separately and are not combined into a single composite score.
Cost
$250
$205
Duration
3.5 hours
3.75 hours
Exam validity
5 years
5 years
GMAT vs. GRE Results for MBA programs:
Admissions trends show that business schools are looking for candidates with more than just business experience. This means that the GMAT is no longer the only test in the game.
Since the GMAT and GRE are completely different tests, comparing the two scores is like comparing apples to oranges.
The people who administer the GRE (ETS) and those who administer the GMAT (GMAC) use comparison tools to put student's scores into perspective, but many MBA programs use the ETS comparison tool as a benchmark.
So, to get the most out of your score and your application, you should research the schools you choose to see what score ranges they require for admission. Use our business school search to find the MBA programs that interest you.
WHICH TEST IS EASIER: GMAT OR GRE?
In general, the GMAT is suitable for those who have good quantitative and analytical skills and who also excel at interpreting data presented in graphs, tables, and text to solve complex problems.
The GRE math section tends to be simpler and, unlike the GMAT, includes a calculator for all quantitative problems. People with good grammar skills may gravitate toward the verbal section of the GMAT, while test-takers with a large vocabulary may prefer the GRE.
Both tests have their "odd" question types (Quantitative Comparison on the GRE and Data Sufficiency on the GMAT) that will take a bit of preparation to get used to.
How to choose?
The best way to determine which of the exams best suits your abilities is to take a practice test for each exam.
Getting into any business school is quite competitive, and you may want to familiarize yourself with a practice test before taking the GRE or GMAT. Both exams include writing, verbal and quantitative sections that encompass many similar topics.
But most people believe that the GMAT poses more challenging quantitative questions and the GRE has slightly more difficult verbal questions.
While most business schools accept both tests, some prefer the GMAT as it assesses the skills related to business school coursework.
To find out which exam can work for you, make sure to research the exam policies of the top business schools and opt for a practice test for each exam.
And one more thing–your test scores are just a part of your application, and you are also required to have your personal statement and letters of recommendation to improve your chances of being enrolled in top schools.
What do you think? Let us know by commenting below!