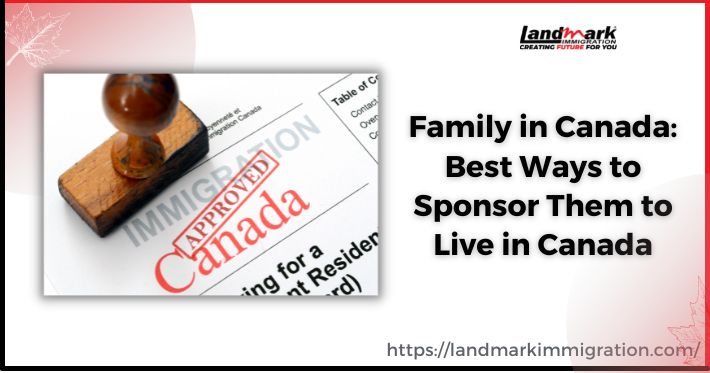 Whether you are interested in finding a sponsor to bring your family to live in Canada or whether you are interested in sponsoring a foreign family to come live in Canada, there are ways to do so. 
You must first find out whether or not you qualify for this type of sponsorship. 
There are specific requirements for you and your spouse and dependent children.
This blog will guide you ways to sponsor your family in Canada.
1. Processing fees
Whether you are planning sponsorship of your family in Canada or your relatives are already living here, you'll have to pay processing fees. 
These fees are set by Immigration, Refugees and Citizenship Canada (IRCC), which increases them every two years in accordance with inflation. 
These fees apply to all nationals of all countries.
You can sponsor a relative to become a permanent resident in Canada, but you must be a Canadian citizen and be able to support your family financially. 
The Canadian Government has developed several family sponsorship programs that allow Canadian citizens to sponsor family members to immigrate. 
Some programs are crafted specifically for certain types of family members.
The BC Provincial Nominee Program allows the province to nominate foreign workers, entrepreneurs, and international students.
This program helps the province meet the needs of the labour market while growing the economy. It also helps to support government priorities.
2. Minimum income requirements
Whether you are sponsoring a spouse, a child, or even a grandparent, the minimum income requirements for family sponsorship vary from province to province. 
But you can do a few things to uplift your chances of being accepted into Canada.
The most essential thing is to get a full-time job. 
Even if you are a freelance writer, you must show that you can afford to live in Canada for some time. 
You may not be eligible if you have friends or relatives sponsoring you.
The best way to find out if you can afford to sponsorship of your family in Canada is to fill out the Financial Evaluation form. 
It is part of the application package. You will have to fill out a similar form for a dependent child, but this one will have more information.
The other important thing to know is that you must satisfy the provincial and federal government requirements. 
For example, you can't live in Canada if you are in jail or receiving welfare benefits.
3. Requirements for spouses
IRCC (formerly CIC) welcomes 100,000 immigrants yearly through the family sponsorship program. 
Among them are spouses, partners, and children. These sponsors must fulfil certain requirements in order to be granted citizenship or permanent residence to their family in Canada.
For the most part, spousal sponsorship is no different from that of a sponsoring common-law partner. 
However, there are some key differences. For instance, a common-law couple is usually separated for various reasons, including employment, extenuating circumstances, or hostile country conditions. 
A sponsoring common-law partner can be the same or the opposite gender.
In addition to providing financial support for dependent children, a sponsoring spouse or partner must also live in Canada. 
This means they can't work outside of Canada, receive government aid, or be imprisoned. 
If a sponsored individual is a resident of Europe, they will also need to provide biometrics.
If a family member is not a Canadian permanent resident, they must pass a medical examination. 
This test will help the Canadian Government determine whether the sponsored individual poses a public health risk.
4. Requirements for dependent children
Whether you are a Canadian citizen or a permanent resident, you may be able to sponsor a dependent child. 
Sponsoring a family is one of the essential immigration programs in Canada. It is designed to keep families together and encourage family unity.
In order to sponsor a dependent child, you must meet specific requirements. 
The Government sets these requirements. If you cannot meet these requirements, you may be ineligible to sponsor a dependent child.
The Government of Canada believes that families are important for an individual and therefore they wants to keep them together. 
To achieve this goal, the Immigration and Refugee Protection Act was passed in 2015. 
This law allows Canadian citizens to sponsor their dependent children. However, the child must meet specific criteria.
Children under the age of 16 must be supported for at least three years. 
On the other hand, children who are 16 or older must be supported for at least ten years. 
Sponsors must sign a sponsorship agreement that states they will provide financial support for the child. The sponsor must also meet other requirements.
For parents and grandparents, the obligation starts when the dependent child becomes a permanent resident.
The Bottom Line
Living with your family in Canada can be a blessing for you as you would be able to enjoy mesmerising lifestyle of Canada with support of your family.
Hope you understand the requirements you need to fulfil in order to live with your family in Canada.
Landmark Immigration has a track record of so many successful sponsor visas.
You can contact us for any doubts on your sponsorship visa.