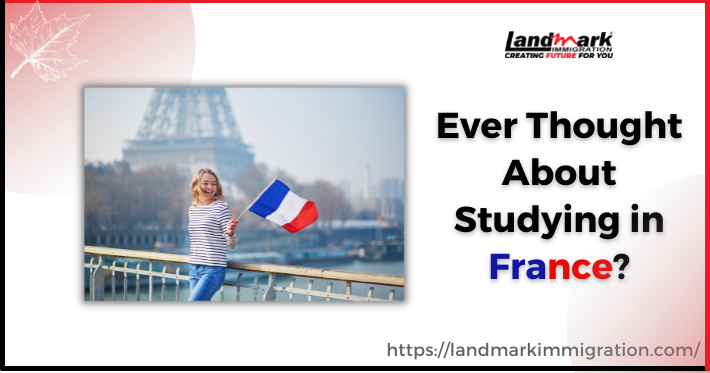 One of the largest countries in Europe is France. Known as the gateway into Europe, the country comes with a rich history of philosophy, artistry and science. France has many international airports with two of them being in Paris, French rail service and ferries make travel easy and convenient. The great culture, literature and cuisine make it a desirable destination for students across the world to come and study in this educational hub.
Why choose France?
France offers education which is at par with other countries and many French universities rank on top of the university rankings across the world. The education system in France is known for its higher education. Being considered the best, the universities and colleges are also accessible as the tuition fees is affordable.
The country is known for management and international business-related courses and is home to many business schools that are accredited. Home to around 71 universities that are public and funded by the government, any student irrespective of the country.
Visa and Entry into France
Before a student enters France and if s/he is not from European Union, the applicant needs to procure a visa and a residence permit also known as (VLS-TS). The validity of this document is one year and can be renewed later. Along with this, an application that is complete and must include 3 pictures. The process of visa application to get processed and approval can take approximately two months.
The language of communication in France is French and an international student who is fluent in it will be able to have an easy time with education and everyday life.
The Cost
The rates of tuition at a public university are decided by the government and are the same for all international and domestic students. Although, the rates of a private university are on the higher side as it is not decided by the government.
To help the students, there are many scholarships and other schemes that are available to international students. Some of them are
French Ministry of Higher Education and Research
National Centre for Scientific Research (CNRS)
Awards from regional councils
Erasmus
Erasmus Mundus programs
The restaurants and transportation rates for students are often subsidized and there are various cost-friendly accommodations that are available for international students. The international students also have an option to avail of a grant from the local CAF, Caisse d'Allocation Familiale. One has to be eligible to gain the benefits like getting up to 35% of the rent money back on a monthly basis. This grant application is free to apply for.
France is an excellent education hub and it offers the best discounts for students who come to pursue graduation or post-graduation.
To know more about how you can apply to France and for any visa and application-related assistance, do get in touch with Landmark Immigration. There wide range of services in the field of immigration and education can help you avail the best deal.