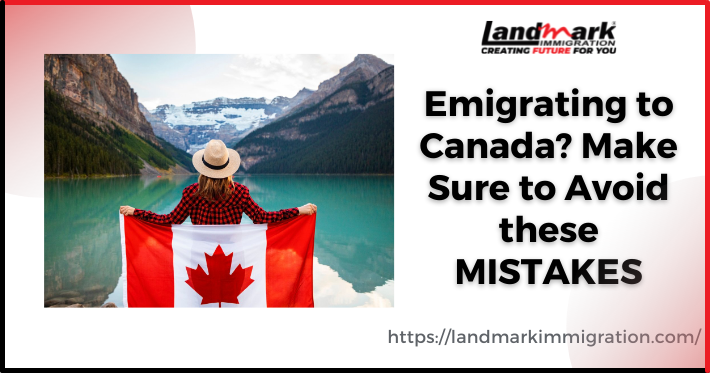 So you are looking to emigrate to Canada. Whether you are moving there for study, work, business, or travel, make sure to be aware of your purpose and the preparation.
It is important to be realistic and see how feasible your project is, depending on your financial situation, your trajectory, and goals, professional opportunities, etc.
Here we are going to tell you the most common mistakes, or easy ones to commit, when deciding to emigrate to Canada, especially with a student visa. Are you ready?
Not having a clear objective
If you do not know why you want to come to live in Canada, it will be difficult for you to achieve your goals. It is worth sitting down to think and define the purpose of the trip, whether it is to settle there, complete your studies, study something new, come in search of job opportunities, live the experience, get to know new cultures and landscapes, etc.
Obtaining Information From Unofficial Or Unreliable Sources
Today we can access millions of web pages, with a lot of information, about everything we can imagine. We can also find thousands of bloggers on social networks and YouTube, giving advice on what life is like in Canada, talking about visas and even courses … Please don't believe everything you see and hear there! You could jeopardize your admission process in the country.
Coming to Canada as a student requires compliance with the immigration laws and processes required by the government. At Landmark, we can guide you over the immigration process for Canada as well as help you in every state.
Making Last Minute Changes
Our advice is that you plan your trip well, and as far in advance as possible explore the options you have in the country and the visas you can choose.
If your option is to study in Canada, take a good look at which courses you can take, and which ones are interesting for you, remember that the visa must be processed sometime before the start of the course (at least 5 months in advance). If it is too stressful, make sure to get in touch with an efficient immigration consultant like Landmark. We can help you with the process.
Once you have your course, it is good that you do not make last-minute changes regarding dates, since this would affect your accommodation reservation, and your flights probably, in short: more expenses and nerves!
Providing Fraudulent Details:
When it comes to visas, the Canadian government has the necessary resources to verify the information we send, including documents from other countries, don't risk it!
It is not worth lying or falsifying documents or experiences. These types of shortcuts can trigger your visa to be rejected, with possible future penalties for entering the country.
Not Buying health insurance
This is one of the manual errors when going to study in a foreign country. First of all, say that it is mandatory to have medical insurance in order to study in Canada, even if you come with a work visa with the International Experience Canada program.
Some people prefer not to hire it to save money, well, the decision can be quite expensive … Hopefully not, but if you have to go to the doctor in Canada, just for a medical consultation it costs around $ 100 – $ 120, go to the A hospital emergency room can be around $ 400, not to mention if there is an admission or operation … Take medical insurance with coverage for all the days that you are going to be in the country.
Failure to comply with the course or that the studies are unrelated
When you apply for a student permit in Canada, the chosen course must be related to what you have studied previously, either in your country of origin or elsewhere. If you want to change professions, it can be accepted, but you will need to explain it in your application.
Lacking the Required Financial Funds
Studying in Canada is expensive, especially as an international student, especially since the cost for food, rent, transportation, etc. is not affordable for everyone.
It is true that you will be able to work 20 hours a week, and in full-time vacation periods, but you will still have to show sufficient funds to stay in Canada.
Not Renewing Your Visa on Time:
You should not commit this mistake under any circumstances, your permit must be active when you emigrate to  Canada, otherwise, the Canadian government can deport you, since you would be illegal in the country. Before it expires you can make an extension of your visa, or student permit, and wait for the answer to arrive while you are still in Canada.
We recommend that you always seek advice from a professional, before failing to comply with any legislation in force in the country. Keep in mind that each immigration status carries legal obligations that are strictly enforced by everyone.
We hope that these tips will help you when you emigrate to Canada, safely, and without making mistakes that can ruin this fantastic experience. If you are still in doubt, get in touch with our study and work abroad consultants at Landmark. We are backed by experience and expertise and we relentlessly represent the best interest of our clients and desired results.