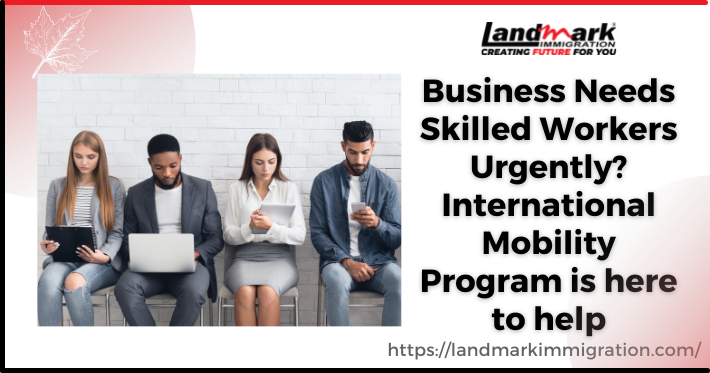 16 May 2022
Suppose you want to hire a skilled foreign worker but don't have time to engage in the Labor Market Impact Assessment (LMIA) process. If you need skilled workers but don't want to go through the hassles of LMIA processing, you should consider the International Mobility Program.
If you want to employ a foreign worker without going through the hassles, formalities, and procedures of the LMIA process, then you need to consider hiring using the International Mobility Program.
Why do Canadian employers want to hire skilled foreign workers
Canada has been facing a labour shortage for many years now, and it is difficult for Canadian employers to take their pick. Further, Canadian employers are constantly in competition with other companies who hire people quickly since the talent pool is quite small.
How do other programs in Canada work
The Temporary Foreign Worker Program helps Canadian employers in hiring foreign workers for positions where enough skilled workers are unavailable in Canada. Canadian employers need to gain permission and provide sufficient proof of this unavailability to be eligible for the program. The ESDC or the Employment and Social Development Canada requires Canadian employers to execute a minimum of three recruiting activities, such as advertising in the job bank in Canada for a minimum of four weeks spread over three months before they apply for the LMIA.
No mandatory recruiting activities necessary for International Mobility Program
The International Mobility Program concentrates on promoting the cultural, social, and economic interests of Canada, which means that they focus on the positive aspects of hiring a qualified and skilled worker. This is why workers who have qualified for the International Mobility Program are excused from any LMIA requirement. This means that Canadian employers can hire a skilled foreign worker without going through mandatory four-week recruitment and advertising process.
Hire skilled foreign workers in less time and for cheaper
Merged with the traditional two-week processing time for International Mobility Program worker permits, the total process of interviewing prospects and having them settle into their duties in Canada could be completed within a month with the International Mobility Program. Hiring an International Mobility Program-qualified worker is much cheaper since employers don't need to pay any LMIA fees.
No restrictions on hiring high-wage and low-wage workers
LMIA rules for positions that have high wages require Canadian employers to either support the transition period of the foreign worker or have a transition plan in place until they gain permanent residence in Canada. Since these include additional costs, TFWP hiring does not qualify as a viable long-term strategy for an employer. As per LMIA rules for low-wage positions, there is a limit on the number of foreign workers that could be hired. These restrictions do not apply to International Mobility Program candidates since there exist no LMIA requirements. Whether you employ a low-wage or a high-wage worker, the basic requirements stay the same until there are significant cultural, social, and economic benefits for Canada.
International Mobility Program offer open work permits
International Mobility Program work permits are completely open work permits. This means that the worker is completely free to get another job in Canada and doesn't need to go through any additional formalities or processes. From the perspective of the employer, this means they can establish a more flexible compliance regime since workers are free to quit their jobs if an employer violates any of their rights.
Conclusion
If you are looking for skilled workers but are unable to find them in Canada, you need to check the International Mobility Program. The International Mobility Program offers you a seamless process without any real disadvantages to get the talent you want on your team. You don't need to incur any additional costs or meet any requirements with the International Mobility Program. Since the International Mobility Program offers open work permits, you don't even need to worry about any compliance issues.