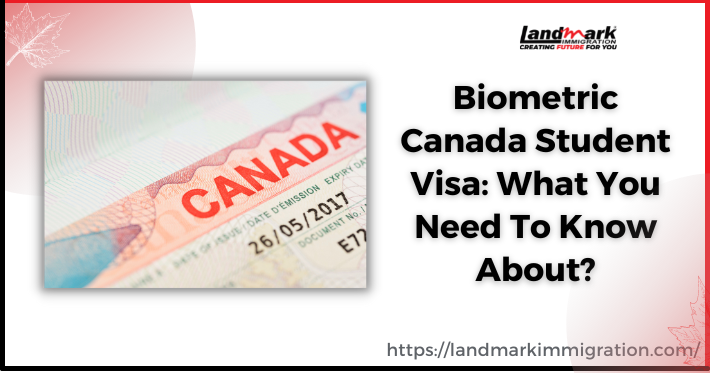 From 2021 December, Canada updated their student visa requirements to minimize the errors. As in, submitting your biometric credential is now a must. Even though the procedure sounds intimidating but is super secure.
If you are a foreign student wanting to pursue higher studies in Canada, be ready to submit your biometrics along with your visa application. Here is everything you need to know!
If confused, what is a Biometric Study Visa? Here you go, biometrics are your fingerprints and digital photograph that you need to attach with your Canada Student Visa.
What's the purpose of adding biometrics with a visa?
These biometrics are used by Canadian visa officers to verify your identification. This makes it harder for someone to fake their identity, which simplifies the process to fix mistakes. Following you provide your biometrics, a protected facility will keep your credentials in a database owned by the Government of Canada.
The Royal Canadian Mounted Police (RCMP) will then carry out a background check on you by comparing your fingerprints to those of people who have committed crimes, applied for asylum, been deported, or applied to be a temporary residents.
The visa officer will evaluate any matches to these already-existing records before making a decision about your application for a Canada Study Visa.
Your credentials will be placed in a secure location in a database run by the Government of Canada after you provide your biometrics. Your application for a Canada Study Visa will thereafter be handled by the IRCC.
Read below to find out if it applies to you too:
If you are someone applying for a visitor visa.
If you are someone applying for a work or study permit.
If you are someone applying for permanent residence in Canada.
If you are someone applying for refugee or asylum status.
If you are someone applying for an extension of your stay in Canada, known as a visitor record
If you are someone applying for a work or study permit extension.
Are there any more terms or conditions?
Absolutely! A few applicants are exempt from these demands. Such as:
Such candidates encompass, among others, those seeking citizenship, current permanent residents, kids under the age of 14, and those who are over 79.
You won't have to provide your biometrics until your subsequent application if you presently have a valid Canada Study Visa.
If you submitted biometrics for a guest visa, work permit, or study permit within the last ten years and they are still valid, you do not need to submit them again although if your prior application was denied or refused.
Note: You can use the Check Status tool provided by the Canadian government to determine whether your biometrics are still valid.
How to submit your biometrics?
Pay the Biometric Fee ($85 CAD per applicant) when you submit your visa application.
Receive the instruction letter.
Set an appointment to submit your biometric at a government-authorized collection service point.
Remember, your visa will not be processed until the biometrics are submitted.
How much time does the whole process take?
Once your biometrics and Canada Study Visa application have been submitted to the IRCC, it typically takes 8 weeks to receive a visa. How to expedite the procedure is as follows:
At a Visa Application Center, submit an application in person or online. Your application should not be mailed.
When submitting your application, pay the application and biometrics fees together.
You should provide your biometrics as soon as you receive your Biometric Instruction Letter, ideally at the same time as your application at a VAC.
If getting to your local VAC involves travelling, take that into account.
Bring any supporting documents to your VAC visit if you have a facial injury or other chronic medical condition that affects your hands or face.
Here are some pointers to note when providing biometrics for a study visa for Canada.
Do not dress in white or light colours.
Ahead of your visit, avoid getting henna on your hands.
Before submitting your fingerprints, be sure that any scratches, bruises, or cracks on your fingers have healed.
Make sure your entire face is visible when you are getting your picture taken.
For much such information on a Canada study visa, consult our immigration experts at Landmark Immigration.