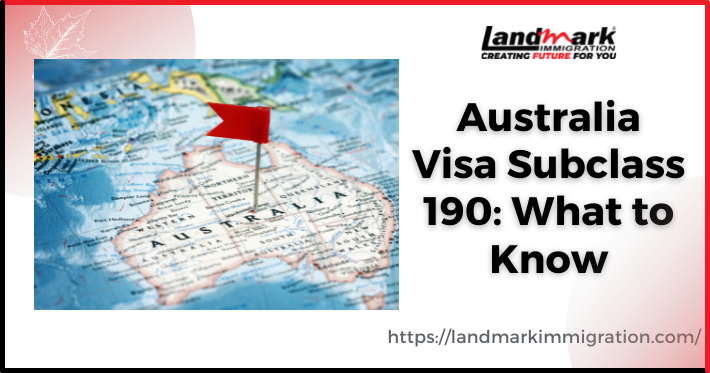 Australia has always been a popular destination among Indians when it comes to settling abroad. And Australia offers a range of permanent residency options. One such option is the Skilled Nominated Australia Visa Subclass 190. It gives you a wonderful opportunity to become a permanent resident of Australia.
This visa lets you work and study anywhere in Australia as well as sponsor relatives to migrate to Australia. Moreover, it will take you a few years to become an Australian citizen after getting this visa.
What is the Eligibility Requirement of the Skilled Nominated Australia Visa Subclass 190
To get started for the Skilled Nominated Visa Subclass 190, you need to apply through an Expression of Interest (EOI) through Skill Select and be asked for lodging an application for the visa.
EOI is generally a test in which you have to score at least 65 points that are determined by scores achieved in the following categories:
AGE:
The scores are also determined by your age. But you should be no more than 45 years. Here is how points are for age group 18-44:
25 Points for 18-24 Age Group
30 Points for 25-32 Age Group
25 Points for 33-39 Age Group
15 Points for 40-44 Age Group
English Language Proficiency:
The English language is another major factor to decide your points for 190 Visa. Here is points breakdown:
0 Points for Competent English — IELTS 6 / PTE 50
10 Points Proficient English — IELTS 7 / PTE 65
20 Points for Superior English–IELTS 8/ PTE 79
Wish to score 7+ bands in IELTS, click here 
Skilled Employment (Outside Australia):
5 Points for At least 3 but less than 5 years.
10 Points for at least but five but less than eight years.
15 Points for eight and up to 10 years.
Skilled Employment (In Australia):
5 Points for At least one but less than three years
10 Points for At least three but less than five years
15 Points for At least five but less than eight years
20 Points for At least eight and up to 10 years
 Educational Qualifications:
20 Points for Doctorate/PhD
15 Points for Bachelors/Masters Degree
10 Points for Diploma
Australian Study Requirement:
5 points for one or more degrees diplomas or trade qualifications awarded by an Australian educational institution and Australian Study Requirements.
Miscellaneous Factors:
5 Points for Credentialed community language qualifications
5 Points for Study in regional Australia or a low population growth metropolitan area (excluding distance education)
10 Points for Partner skill qualifications
10 Points for Professional Year in Australia for at least 12 months in the four years before the day you were invited
5 Points for Australian Masters in STEM (2 years study)
5 Points for Partner's English
10 Points for Single applicant
What is the Processing Time of the Skilled Nominated Australia Visa Subclass 190
The Australia visa subclass 190 processing time is determined by many factors. However, the expected time frame can be anywhere between 12-18 months from the date of applying.
Once the Australian immigration authorities receive your application for visa subclass 190, they might take some time to review it. Sometimes, there can be more delay if the immigration officials take more time to check certain documents.
Make sure to check your email ID lest you should miss out on responding to the important notifications send by immigration authorities. If you fail to respond on time, you can face an unexpected delay related to your visa subclass 190.
The delay also happens in case your documents are missing.
Talk to us immigration expert to avoid such conditions in your case
Therefore, as an applicant to Skilled Nominated Visa Subclass 190, you really want to avoid any unwanted delay in its processing.