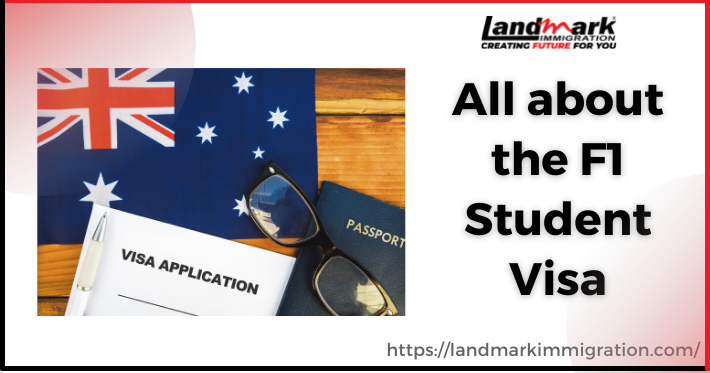 Students who wish to get an education in the United States should understand the application process for the F1 student visa. Around a million international students apply for an F1 student visa every year. This huge number suggests that you need to be well-versed in the entire process to maximize your chances. Here is everything you need to know about the F1 student visa.
What is an F-1 student visa?
The F-1 student visa is a non-immigrant visa that permits international students to go to the US and gain an education at one of the institutions certified under the (SEVP) or Student and Exchange Visitor Program. It is one of the most prevalent kinds of student visas. Students who want to study at a US college or university. Students can only apply for an F-1 visa after their application has been accepted by an accredited US institution.
F1 student visa requirements
There are various F1 student visa rules that you need to remember when you are applying for your visa. You need to meet the below requirements to get your application accepted:
● Institution certification—The college that you plan to attend should be registered with the SEVP Immigration & Customs Enforcement.
● Full-time enrollment—You should be enlisted as a full-time student at the educational institution when the academic duration is in session.
● English language proficiency—You need to meet the needed English standardized language proficiency score that the institution you will be attending requires.
● Sufficient funding—You need to prove that you have adequate funds to finance your living expenses and studies in the US.
● Valid passport—Your passport needs to be valid and approved for US travel for a minimum of six months after the completion of your program.
● Home country residency—You must have a residential address in your home country where you can return when you have completed your educational course.
How to apply for an F1 student visa
Before you start your F1 student visa application, you need to follow these steps:
1. Get a letter of acceptance from a SEVP-certified educational institution before you submit your visa application. Once you are accepted, you would get your I-20 form, which needs to be submitted when you apply for your F1 student visa.
2. Pay the applicable SEVIS fee.
3. Complete the DS-160 visa application.
4. Schedule a visa interview.
5. Attend the visa interview.
If you want to apply for an F1 student visa from India, once you have completed the above steps, you will be prepared to submit your completed F1 student visa application.
Admission requirements
Before you go for your visa interview, ensure that you carry the following documents. These documents would be evaluated by your consular officer:
● Proof of finances such as bank statements
● A valid passport
● Diploma if applicable
● A copy of your photograph that you will have on your visa
● I-20 form
● Official test scores and school transcripts cited on your application to your college
● Printed copies for your I-901 and DS-160 SEVIS payment confirmation.
During your F1 visa interview, your consular officer might request some additional documents. To stay prepared, you should consider bringing the given documents to your interview:
● Academic records like certificates, degrees, diplomas, or transcripts from schools and institutions that you attended
● Standardized test scores that are required by your US institution
● Proof of your intent to leave the United States when you complete your course of study
● Statements that prove your ability to afford all travel, living, and educational costs
Conclusion
If you are an international student, you may feel unsure regarding your F1 student visa application. Even though feeling nervous is quite normal, make sure that you do not forget to calm yourself down and remember that you have prepared well and met the requirements of the visa. You need to ensure that you have all the required and optional documents with you when you apply to avoid any last-minute hassles.