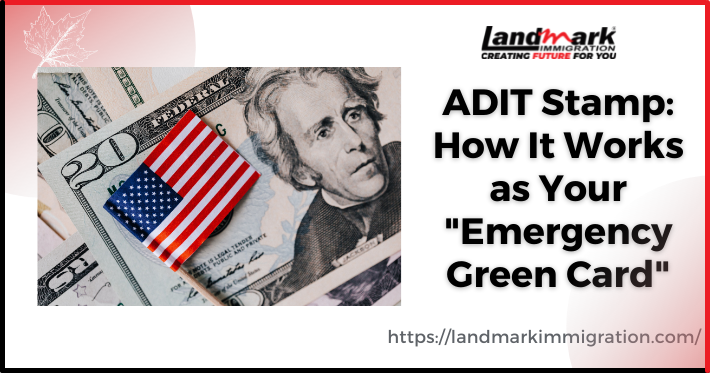 The ADIT stamp refers to a temporary provisional emergency document issued by USCIS as a temporary I-551 Permanent resident card with your fingerprint, information, photo, and expiration date in the USA.
The ADIT stamp allows you to travel, work and apply for social security, driver's license, social services, and other government services. The stamp is issued to LPR or Lawful Permanent Residents also known as "green card" holders who are the non-citizens being permitted to live permanently in the USA.
It might be applied to a passport or Form I-94. Also known as the I-551 stamp, it can be obtained if your green card is lost, misplaced, stolen, or never received.
For example, when LPRs travel abroad and return to the USA, they need to provide their passport and green card as well for verification at the border, airport, or any point of entry to the nation. A valid passport is required to travel and LPRs are required to show proof of valid PR status so that they can travel with their passport.
However, if an LPR doesn't have their green card, they need an ADIT stamp in their passport or I-94 to show it as their proof of current status as a lawful PR.
Where to Get an ADIT Stamp?
You can get your ADIT stamp from the local area office by first contacting the USCIS at 1-800-375-5283 to schedule an appointment.
ADIT stamps can only be affixed on Form I-94 (with photo) or an unexpired passport. If there is any delay in the processing times, the candidates can request an appointment from their local USCIS field office to get the ADIT stamp.
If the stamp is required urgently–for instance, death or emergency in the LPR's family abroad–then it is essential to provide documentation of that emergency to USCIS, such as medical documents regarding a sick relative and plane tickets.
Can You Travel with ADIT Stamp?
Yeah, the ADIT stamp lets you travel across the USA. The stamp affirming temporary evidence of PR status is valid for a year. It is genuine proof of PR status for employment and travel purposes.
How Long Does it Take to Receive an ADIT Stamp?
It might take up to 12 months for the overall renewal procedure to be done, depending on the workload levels and staffing of the USCIS. Make sure to bring the required documents for your I-551 stamp.
What is the Eligibility to Get an ADIT or I-551 Stamp?
Any LPR of the US can apply for an I-551 stamp as temporary evidence of PR. You can apply for an ADIT stamp if your…
Existing Green card is stolen, damaged, or lost
Green is to be renewed and you need a temporary one
What are the Documents Required for I-551 Stamp or ADIT Stamp?
Valid Passport
InoPass Appointment Slip
Form I-797 (serves as a Form I-90 receipt)
Permanent Residence Proof
Green Card Copy (if available)
Copy of date-stamped ASC appointment notice (if applicable).
What is the Cost of an ADIT Stamp or I-551 Stamp?
While there is no direct fee associated with the application, the process requires you to file Form I 90, which can cost you $445, in case of damaged, expired, or stolen Green Cards.
How Long an ADIT Stamp or I-551 Stamp Valid For?
USCIS issues I-551 stamps for six to twelve months. The actual duration given depends on the time it takes to process your actual Green Card, your individual circumstances, and the validity of your passport. If your passport expires in five months, then your I-551 stamp loses its validity in five months, too.
Can you get an I-551 stamp online?
No. The stamp is not available online. Someone from the local USCIS field office will do it on behalf of you.