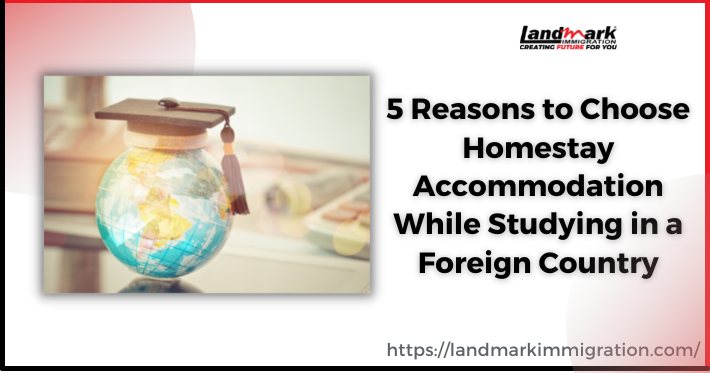 28 November 2022
As excited as you are to start this wonderful journey of studying in a foreign country, there remains a streak of nervousness that ties you down. We understand how overwhelming it is for a student to live abroad away from their family.
And among many accommodation options, homestay accommodation is among the most sought–after solutions. And while this may surprise you, it is actually quite a desirable option among international students.  Take a look at reasons why homestay accommodation is right for you while studying in a foreign country-
1. Safety
Regardless of your background, families always worry about their children living abroad. And while you are enrolled in a reputed university, you will doubt your safety living all by yourself. This is why homestay accommodation is preferable in such cases. This is because the host families are carefully vetted and selected.
It will also ensure peace of mind for you and your parents living time zones away. This is all the better if you are living abroad for the first time. You would be surrounded by safe locals- whether you are at the university or back home. 
2. Home away from Home
Even the most adventurous travel lovers are bound to feel homesick. This is not a two-week holiday, there is a chance you might see your family after a year or two or maybe after course completion. This means you are going to miss an entire year of special events, birthdays, festivities and get-togethers.
In this way, your host family can help you immensely. There will be support at times when you feel low. Plus, you will have your own warm moments that might not replace your family's but fill you with love and confidence.
3. Independence
A lot many international students feel homestays would deprive them of freedom outside of the university. On the flip side, host families respect your privacy, time, and liberty. Yes, there might be curfew hours that can be adjusted when communicated in time.
If you are planning to spend the night at your friend's, all you need to do is inform them in advance. The best part? Host families understand how important it is for you to explore the place to eventually be a part of the community. 
This will have a positive impact on your life. It will teach you to be independent and accountable. You will know how to take care of yourself and know what it takes to be independent. 
4. Responsibility
Living miles away from your home country teaches you many things. Apart from being independent, you realize the true definition of being an adult. When you live in homestay accommodation, it is the best of both worlds. You will pay for the utility services, safety, food, and shelter at a reasonable cost.
Not only this, you will also be able to save for your other things and that's how you will learn to save and manage your finances. You will know how much to save for rainy days, and how much to splurge on essentials and entertainment. 
5. Personality Development
When in Rome, do as the Romans do. Choosing to live in a homestay accommodation is a wise decision. You will save yourself from future culture shocks.
Apart from that, you will learn so much about different languages around the world. You will have something new to learn every day. It could be an interesting fact about the state or local slang. Each day will be enlightening and interesting. This will play a vital role in shaping your personality for the better. 
Here's hoping we have your heart and mind set on homestay accommodations. There is plenty to learn and much to enjoy beyond your university hours. All you need to do is give homestay a chance if you plan to study abroad!