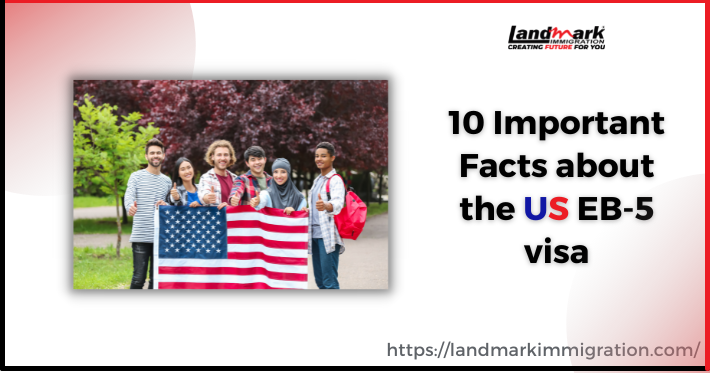 If you want to invest your funds in the United States, then the EB-5 visa is for you. The US EB-5 visa offers foreign investors an opportunity to secure a Green Card in the US to invest their money for their families and themselves.
Making an investment in the US can help you in keeping your assets safe as well as create more jobs for Americans and boost their economy. Let us look at the US EB-5 visa in detail.
What is EB-5?
The EB-5 program offers foreign investors a way to get permanent residency, commonly known as the US Green Card. The immediate family of the investor, comprising unmarried children that are younger than 21 years, and a spouse are also eligible to apply for immigration.
Who is eligible to apply for the EB-5 visa?
To obtain permanent residency in the US via the Immigrant Investor Program, any foreign investor needs to complete a particular investment in a commercial establishment in the US. The investment needs to either preserve or create ten permanent jobs for Americans.
What are the top advantages of securing an EB-1 visa?
There are numerous advantages and benefits of obtaining an EB-5 visa in the US:
Obtaining an EB-5 visa is a very comfortable option to obtain US Green Cards.
There is no age limit in the EB-5 program.
Your family is also eligible for immigration.
There are no language requirements.
There are no educational requirements.
You can easily gain access to the job markets in the US.
How to obtain an EB-5 visa?
There are two ways your US investment could help you in getting a Green Card. These are:
Directly investing in a business that you yourself own if it operates in the US.
Investing in a Regional Center if you do not want to launch a business in the US.
How much investment is needed for EB-5?
Generally, the minimum amount needed for investment is USD 1,800,000. The investment amount needed for the targeted employment area or the TEA is approximately USD 900,000. A TEA is an area which has a particularly elevated level of unemployment or is rural.
What is a commercial establishment for EB-5?
To establish EB-5 eligibility, any commercial establishment should mean any activity that results in profit-making under lawful business. This can include:
Other entities, private or public
Partnership, general or limited
A sole proprietorship
Joint venture
Business trust
Holding company
Corporation
Any non-commercial activity like managing and owning a private residency is not permitted for eligibility under an EB-5 visa, even if it is in the United States.
What is an EB-5 Regional Center?
A regional centre is essentially an institution that runs a business that aims to ultimately create jobs. If you want to invest through a regional centre, there is no need to launch your own business. A regional centre could be private, public, private, or a combination.
All EB-5 Regional Centers fall under the USCIS or the US Citizenship and Immigration Services and have to first be approved and designated by the same.
Conclusion
Even though there are many ways of obtaining a US Green Card, the EB-5 program is one of the most comfortable ones. Since there are no limitations or restrictions and the entire family of the investor becomes eligible for permanent residency, an EB-5 visa is an extremely attractive option.
It is also a very good option for foreign investors looking to keep their assets safe. The US also offers a lot of benefits to foreign investors to help them in making seamless investments in the US.